Leadership matters. I have had that bedrock truth reinforced countless times in the course of my activities in business, education, politics and community work. When I speak to graduates at CU commencement ceremonies each semester, I share with them lessons I have learned about leadership in the past six decades.
First, and perhaps most important, I urge our newly minted alumni to be leaders. Leadership is one of those intangible qualities that is essential to organizations, communities and our country. And while we have selected courses and programs across our campuses that focus exclusively on leadership, and it is woven across the curriculum in other ways, it is not something that can be taught the way we teach history or physics.
The leadership lessons we impart to students are valuable, yet my view is that the best learning about leadership comes from a combination of experience and observation.
I have been fortunate in my life to be in a position to observe and work with some of the foremost leaders of our community, state and nation, from school superintendents to presidents of the United States. I have also worked with leaders in business and industry.
I tell our graduates I have learned that leaders are open and inclusive. They know what they don't know and they surround themselves with smart people who do know. Teamwork is essential to the success of any organization, and great leaders foster high-performing teams.
It's important for leaders to be thoughtful and not act rashly, but they also need to take calculated risks. While these approaches may seem at opposite ends of a spectrum, they actually work in concert. Conditions will not always be optimal, but when opportunities arise, leaders have to recognize them and seize them.
Failure is part of leadership. Some of the most valuable lessons I have learned were born of failure. It hurts and it can lead to setbacks, but it is rarely fatal and usually a good teacher. Former President George H.W. Bush once told me he learned more from one election loss than from all his victories. More often, thoughtfully considered risks lead to great rewards.
Perhaps the most important lesson for leaders is one that most of us learned from our parents and from kindergarten teachers: treat everyone with respect. I have watched presidents of the United States who treat the White House service staff with the same respect they show senators and prime ministers. People want to work for those types of leaders; they want to be part of that team.
When leaders treat people with respect, they command respect themselves. I have watched some leaders who demand respect because they hold a title or position. That never works. You cannot force respect. It is earned over time by how leaders carry themselves and how they work with people. You have to lead by example.
Universities such as ours do a wonderful job producing leaders. The lessons learned in our classrooms and on campuses not only serve our graduates well, they provide substantial value to organizations, communities, our state and nation. You don't have to look far to find CU alumni in leadership positions. Our university is well positioned to continue to produce the kinds of leaders our country needs. And that is precisely what we are doing.
For feedback, contact officeofthepresident@cu.edu
Sincerely,


Bruce Benson
President
Recognizing CU's first lady (and mine as well)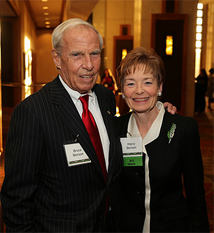 I rely on many people to help me do my job. I have a wonderful administrative team, great campus chancellors and a host of people inside and outside CU who contribute to our university's success. However, the most important person to me is my wife, Marcy. She is my partner in all I do. So if you'll indulge me, I'd like to take a moment to brag about her.
She is a great asset to the university. She not only keeps me on track, but is a force in her own right. She is a tireless advocate for CU, a successful fundraiser and is engaged in some of our key initiatives, from Alzheimer's disease research to health and wellness programs. Marcy was one of 10 business and community leaders recently recognized by the Girl Scouts of America Denver chapter as "Women of Distinction." The Denver Post did a nice profile of her in conjunction with the award. The CU Anschutz Medical Campus also covered her activities in one of its publications.
I'm proud of the work Marcy does on behalf of CU and happy for the recognition she has received. She has embraced her role as CU's first lady and is making a substantial difference, not only for CU, but for me as well. So thanks, Marcy, for all you do.