Leading leaders
Dear Friends and Alumni,
President Bruce Benson
The University of Colorado is fortunate to have exceptional leaders throughout the organization. From the emerging leadership of our students to accomplished faculty who are on the leading edge of their fields nationally and internationally, CU's people make our university special.
We have been particularly lucky to have great, veteran leaders at the helm of our campuses. Phil DiStefano in Boulder, Pam Shockley-Zalabak at Colorado Springs, Lilly Marks at the Anschutz Medical Campus and Jerry Wartgow at Denver are all accomplished veterans who are deeply committed to CU.
We are fortunate to add a new leader to our efforts. Today I named Don Elliman interim chancellor of the University of Colorado Denver and Anschutz Medical Campus. He will replace Jerry Wartgow, who will retire in March. I had hoped Jerry would stay longer. In two short years, he has implemented successful initiatives, created important partnerships, improved campus infrastructure and raised our profile. CU is a better place because of his efforts.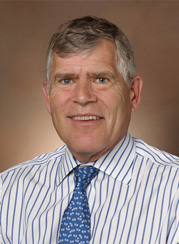 Don Elliman
I expect similar success from Don Elliman. He earned a national and international reputation during his 30-plus year career at Time Inc., where he served as president of
Sports Illustrated
and publisher of
People
magazine. After moving to Colorado in 1997, he became CEO of Ascent Communications (later Kroenke Sports), owners of the Denver Nuggets, Colorado Avalanche and the Pepsi Center in Denver.
After retiring from business, former Gov. Bill Ritter appointed him director of the state Office of Economic Development and later chief operating officer for the State of Colorado. Additionally, he has served as chair of the board of Children's Hospital Colorado and chair of its foundation board. He was instrumental in the hospital's move to the CU Anschutz Medical Campus.
In 2011, Don joined CU as executive director of the Charles C. Gates Center for Regenerative Medicine and Stem Cell Biology. He has led several special projects at CU, including efforts to increase research collaborations across our campuses and enhance licensing of intellectual property.
Don and Lilly Marks, executive vice chancellor of the Anschutz Medical Campus and vice president for health affairs for the University of Colorado, will collaborate on several critical issues, including hospital affiliations and the work of the Fitzsimons Redevelopment Authority, which is developing a biosciences park adjacent to campus.
Don will also continue the substantial forward momentum of our Denver campus, furthering connections with the business community and community colleges in the Denver area, building on the success of our academic programs and addressing critical infrastructure needs.
Leadership matters, and CU is lucky to have the type of people we do in key roles. Don Elliman will be a great addition to our team. His experience and expertise in business, government and education will serve him well in his new role. And I have every confidence his success will serve CU equally as well.
For feedback, contact officeofthepresident@cu.edu
Sincerely,


Bruce Benson
President
---
Colorado Springs City Council approves UCH bid to lease Memorial Hospital

The Colorado Springs City Council unanimously voted Jan. 10 to approve the bid by University of Colorado Hospital (UCH) to lease and operate Memorial Health System for the next 40 years. The city council appointed a team to begin negotiating the terms of the lease and, when completed, the council plans to submit the deal to a municipal vote. This is an important step in a process that, if approved, promises to greatly advance health care, health care education and the economy in southern Colorado. Read More»
---
Five who embody the ideals of Thomas Jefferson honored

It is our pleasure to recognize five faculty, staff and student leaders from the university community who have been chosen recipients of the 2012 Thomas Jefferson Award, among the highest honors given at CU. The winners of the award demonstrate how the CU community adds value not only to our institution, but throughout the state and beyond. By teaching, research and providing service, our people have a profound effect on improving quality of life for countless others. Read More»
---
One year into the new brand: It's going great

One year ago we embarked on a journey to provide a consistent, unified message for the University of Colorado by releasing brand standards for the system, foundation and four campuses. The past year, we've been diligent about implementing and enforcing our new brand, which provides a shared look and vision for the university. Gone are the myriad confusing and often dated messages, replaced by best practices for building on the image and reputation of the university. Read More»
---
Merck grants UCD student teachers a mountain of educational opportunities

Our collaborations with the business and health communities and the trust those institutions have in our university have consistently provided remarkable opportunities for our students and researchers. Recently, Merck, a company working toward global health through innovative medicines, therapies and consumer health products, awarded a grant of $900,000 to the University of Colorado Foundation Inc. to support the XSci. Read More»
---
Marching to her own dream, UCD alumna Tana Knopf inspires youth to pursue theirs

Tana Knopf never believed in walking backward or, for that matter, standing still. It's a belief she instilled in hundreds of students – many of whom were at-risk youth – as band instructor and counselor at Denver Public Schools (DPS). "We have to walk forward. It doesn't matter how big the step, we always have to walk forward," Knopf told her students. "And a lot of them did." Read More»
---
Creating Futures: Leeds mentorship program lets students go straight to the top for answers

CU-Boulder business students gain from the sound business foundation and entrepreneurial mindset that the Leeds School of Business provides. And through Leeds' Professional Mentorship Program (PMP), they gain much more: a unique relationship with a business leader who can provide personal advice and perspective that's hard to come by in a classroom. Gordon Trafton,'77, knows the value of a good mentor. Read More»
---
News from our campuses
University of Colorado Boulder
CU-Boulder still No. 1 in nation for Peace Corps volunteers: For the second consecutive year, CU-Boulder ranked No. 1 in the nation for graduates serving as Peace Corps volunteers.

Read More»

University of Colorado Colorado Springs
UCCS economist predicts zero economic growth in 2012: Growth in 2012 in Colorado Springs will remain stagnant.

Read More»

University of Colorado Denver
CU Denver student attends State of the Union Address: President Obama invited Mahala Greer to the event and she sat next to retired astronaut Mark Kelly.

Read More»

University of Colorado Anschutz Medical Campus
Why never-smokers get lung cancer: Roughly one in 10 individuals who is diagnosed with lung cancer has never smoked.

Read More»
Make a difference. Give today!

---