From python hearts to Tebow's cleats
Dear Friends and Alumni,
President Bruce Benson
When 20 Burmese pythons arrived at Professor Leslie Leinwand's laboratory, she didn't know a thing about their care and feeding. But the chief scientific officer for the University of Colorado's newly created Biofrontiers Institute did know the reptiles' digestion could provide insight into improving human health, specifically preventing or treating heart disease.
Leslie studied how the snake's internal organs double in size as it digests its prey. She reported in the journal Science that existing cells in the python's heart enlarge, then gradually return to normal size over about two weeks. The metabolic process, particularly the role of a combination of fatty acids, was replicated in the heart of a mouse, which may lead to positive implications for human maladies including heart disease, diabetes, obesity and high blood pressure.
The story of her work spread to hundreds of millions of websites, and Leinwand has had to endure ribbing from colleagues about being in the snake oil business. But her work is a shining example of the promise and productivity of our Biofrontiers Institute (formerly the Colorado Initiative in Molecular Biotechnology), approved by the Board of Regents in September.
Tom Cech, CU's first Nobel laureate and the institute's director, says it is a place where "productive collisions" occur among scientists and faculty from multiple CU campuses, departments and disciplines, including: chemistry and biochemistry; computational biology and computer science; molecular, cellular and developmental biology; applied mathematics; ecology and evolutionary biology, mechanical, chemical and biological engineering; physics; and civil, environmental and architectural engineering.
In a traditional academic structure, scientists often work in silos that prevent them from bringing together strands to address the big issues facing biology today. We're changing that by capitalizing on technological advances in areas from DNA sequencing to computational power. Scientists from disparate disciplines now work together to transform new knowledge into practical applications, such as bioengineering of regenerative tissue and stem cells, developing new drugs, vaccines and diagnostics, and developing clean energy solutions.
For example, faculty researchers at the Biofrontiers Institute are collaborating to understand how cancer metastasizes and to find ways to stop it. The work involves chemistry, physics, computer modeling, mathematics, engineering and imaging. Others explore the inner lives of healthy and diseased cells and organisms through a detailed analysis of images using massive computing power. Biofrontiers provides an environment where the right people working together can transform biology.
The right people come from all four of CU's campuses. Their work will be housed in the Jennie Smoly Caruthers Building in Boulder, where some 600 scientists will occupy 330,000 square feet specifically designed to facilitate the productive collisions Cech describes. It will also be a place where academic stars such as Tom Cech and Leslie Leinwand help prepare a new generation of scientists who will think differently, collaborate and push the boundaries of biology.
What started as a grassroots movement among our scientists seeking new solutions to old problems has grown to be a model of innovation and cooperation. It will leverage and expand Colorado's position as a leader in biotechnology research and application. It may also be a place where being a snake oil salesman is a good thing.
For feedback, contact officeofthepresident@cu.edu
Sincerely,


Bruce Benson
President
---
Speaking at CU Denver, President Obama announces national student loan initiatives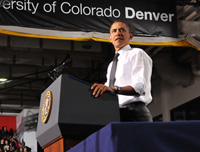 President Barack Obama (click for larger view)
On Oct. 26, we were honored to have U.S. President Barack Obama speak at the University of Colorado Denver. The president told a CU Denver audience he plans measures to take effect next year that will lead to interest-rate savings and simplified repayment of college loans. Thousands of students stood in line in the snow and cold for more than an hour to hear the president speak.
With one of three initiatives, many borrowers could see federal college loan payments drop by hundreds of dollars a month, he said. The proposal would cap student loan repayment at 10 percent of a borrower's discretionary income, starting next year.
According to the White House, the pay-as-you-earn proposal would only apply to some current students and recent graduates. Others, though, might already be able to benefit from an income-based repayment plan that caps payments at 15 percent of a borrower's discretionary income.
Obama, who met with CU Denver Chancellor Jerry Wartgow before the speech, said the second initiative would allow graduates to make single payments for all their student loans, instead of having to keep track and pay them each separately.
Finally, a public education campaign will aim to better enlighten students to the particulars of financial aid.
Know Before You Owe
launched with the release of a financial aid "shopping sheet."
---
Advocating for CU
Thank you to all the CU alumni and friends who have signed up to be CU Advocates. Since the launch of the program last month, more than 1,600 people have agreed to help the university spread the word about its value and challenges, volunteer to host an event or help on campuses, support student recruitment efforts, or engage elected officials. If you haven't signed up, you can do so at cu.edu. We need people who are passionate about CU to help ensure the university can continue to advance educational opportunities, the economy, health and culture of Colorado and beyond.
The effort will also help with our Creating Futures fundraising campaign, as well as allow us to improve the quality and quantity of information CU maintains on our alumni and friends. It is important for the university to have an informed and engaged network of supporters.
---
Building a better electric car through joint program at UCCS, CU-Boulder
The collaboration of our faculty among departments and campuses has been an important educational tool that benefits students and research alike. The latest collaboration between campuses will benefit the environment as well. Faculty from the University of Colorado Boulder and University of Colorado Colorado Springs will team to teach courses to new engineering students, as well as those in the field who want to upgrade skills, in the design and implementation of electric vehicle drive trains.
The U.S. Department of Energy recently awarded a five-year, $954,000 grant to UCCS for the development of courses to prepare engineers for careers in developing new technologies for vehicles that use electric drive trains. The master's-level courses will be taught by UCCS and CU-Boulder faculty members.
The courses will be available through distance-learning technologies such as online courses and, possibly, CISCO Telepresence, in addition to traditional in-person classrooms, making them available to people nationwide.
The GATE Center of Excellence in Innovative Drivetrains in Electric Automotive Technology Education will provide students the opportunity to earn a graduate certificate in electric drive train technology by taking four courses in battery dynamics, battery controls, power electronics and detailed courses in adjustable alternating current drives. Plans also call for creating options for students in a master's of science in electrical engineering programs at UCCS and CU-Boulder to pursue specialization in fields such as battery controls, taught by UCCS faculty, and vehicle power electronics, taught by CU-Boulder faculty.
Faculty working on the project include Greg Plett, professor in the UCCS College of Engineering and Applied Science, Scott Trimboli, assistant professor in the UCCS College of Engineering; Regan Zane, associate professor in the Department of Electrical, Computer, and Energy Engineering at CU-Boulder; and Dragan Maksimovic, professor in the Department of Electrical, Computer and Energy Engineering at CU-Boulder.
---
Creating Futures: Tebow scores big off the field in fight against cancer
Broncos Quarterback Tim Tebow has scored victories on and off the field in recent weeks. Not only did he lead his team to a 38-24 win against the Oakland Raiders yesterday, he also gained yardage in the fight against cancer. A day after Tim Tebow orchestrated a dramatic comeback to lead the Denver Broncos to a road triumph against the Miami Dolphins, a pair of his signed, pink cleats were auctioned off to help produce a victory against breast cancer through research at the University of Colorado Cancer Center.
The eBay auction ended Monday, Oct. 24, with a closing bid of $2,025. The Tim Tebow Foundation, in partnership with XV Enterprises, sold the cleats worn by Tebow during the Oct. 3 Broncos-Tennessee Titans game. The winner also received an autographed photo of Tebow wearing the cleats.
The CU Cancer Center has the largest breast cancer research program in the Rocky Mountain region. The center is known for research that includes how hormones drive breast cancer, identifying genes that cause breast cancer to invade and spread, and the association of breast cancer and pregnancy. The center's women's cancers group holds $7.2 million in research funding today.
The donation was another example of the many ways folks are stepping up as part of the $1.5 billion Creating Futures fundraising campaign. The initiative, which publicly launched in April, has raised more than $1 billion so far. Find out more at http://www.cufund.org/.
---
Alumni: From Saigon to CEO, nursing alumna's compassion stands pat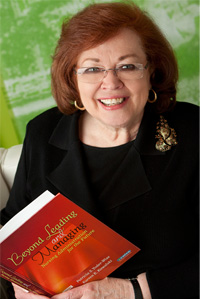 Karren Kowalski
Nurses make a difference every day for patients and families . . . and for each other. It's a simple truth and it's what Karren Kowalski points to as the best part of being a nurse. For many years, her passion has stood as an inspiration to colleagues and patients alike. And now, Kowalski, Ph.D., R.N., NEA-BC, FAAN, has been chosen as the President and Chief Executive Officer of the Colorado Center for Nursing Excellence.
"Nurses have often been the invisible backbone of Colorado's health care system. With more than four Colorado nurses for every physician and as the need for health care services increases, the nurse's role in every Colorado community becomes increasingly pivotal. I'm proud to be a member of this caring profession." Kowalski said.
Early in her career, Kowalski's compassion took her into treacherous territory at a tumultuous time in U.S. history. As part of the U.S. Army Nurse Corps in Vietnam, Kowalski worked in the 3rd Surgical Hospital north of Saigon, which was located in the middle of the 173rd Airborne Brigade. She was on-call 24/7 for three months in pre-op triage and trained herself to hear a medical evacuation helicopter 3 miles out from the hospital in the middle of the night. "The wounded were grateful to see an American woman and to have her hold their hands," Kowalski said. "I felt honored to care for these courageous American soldiers. It became very clear to me that freedom is not free."
Kowalski earned her M.S. in nursing in 1971 from the CU College of Nursing and her Ph.D. in sociology in 1984 from CU-Boulder. She has been honored as the 2010 Florence Nightingale recipient, Distinguished Alumnae in the CU College of Nursing and as one of Ten Outstanding Young Women of America. She was inducted into the Colorado Nurses Association Hall of Fame in 2004 and selected as a Fellow in the American Academy of Nursing in 1981. She served on the Academy board of directors for five years.
"Karren is well respected in Colorado and nationally as a thoughtful leader, educator and passionate advocate for nursing," said Sharon Pappas, R.N., Ph.D., NEA-BC, chair for the Colorado Center for Nursing Excellence and chief nursing officer for Porter Hospital. "She has been an important part of the center's work for years and her service as interim CEO only emphasized how ready she is to lead and how fortunate the center is to have her commitment and many skills."
Kowalski has served as project director on seven major state and federal grants totaling more than $6.4 million; has co-edited five advanced textbooks; and is past president of the Colorado Nurses Association; board member and past president of the CU College of Nursing Alumni Association Board of Directors. She served on the University Of Colorado Foundation Board Of Directors for six years.
---
News from our campuses
University of Colorado Boulder
Worms show extinction recovery: After a global extinction 65 million years ago that wiped out much of life on Earth, lowly worms were likely the first life to re-emerge.
University of Colorado Colorado Springs
Beth-El instructor aims to assist disabled athletes: Craig Elder of Beth-El College of Nursing and Health Sciences will serve as an athletic trainer for some of the world's top athletes participating in the Parapan American Paralympic Games in Guadalajara, Mexico, Nov. 12- 20.
University of Colorado Denver
Making a game out of work: A study last year by Traci Sitzmann, an assistant professor of management at the CU Denver Business School, found that employees trained on video games learned more factual information, attained a higher skill level and retained information longer.
University of Colorado Anschutz Medical Campus
Researchers question key quality measures for asthma: Researchers studying the first national quality measure for hospitalized children have found that no matter how strictly a health care institution followed the criteria, it had no actual impact on patient outcomes.
---
Make a difference. Give today!

---