Speaking at CU Denver, President Obama announces national student loan initiatives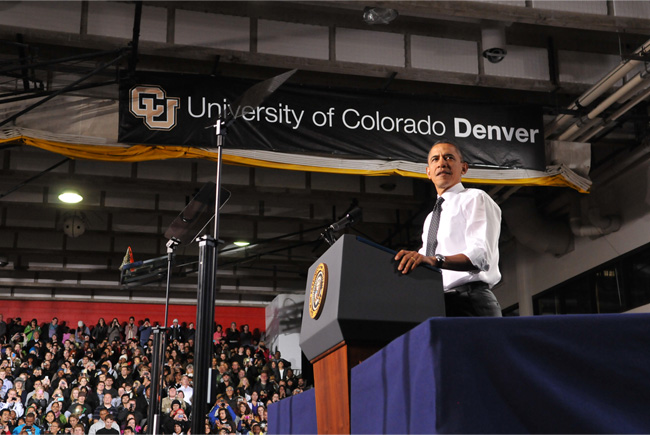 Photo: Glenn Asakawa/University of Colorado
On Oct. 26, we were honored to have U.S. President Barack Obama speak at the University of Colorado Denver. The president told a CU Denver audience he plans measures to take effect next year that will lead to interest-rate savings and simplified repayment of college loans. Thousands of students stood in line in the snow and cold for more than an hour to hear the president speak.
With one of three initiatives, many borrowers could see federal college loan payments drop by hundreds of dollars a month, he said. The proposal would cap student loan repayment at 10 percent of a borrower's discretionary income, starting next year.
According to the White House, the pay-as-you-earn proposal would only apply to some current students and recent graduates. Others, though, might already be able to benefit from an income-based repayment plan that caps payments at 15 percent of a borrower's discretionary income.
Obama, who met with CU Denver Chancellor Jerry Wartgow before the speech, said the second initiative would allow graduates to make single payments for all their student loans, instead of having to keep track and pay them each separately.
Finally, a public education campaign will aim to better enlighten students to the particulars of financial aid. Know Before You Owe launched with the release of a financial aid "shopping sheet."
---
Make a difference. Give today!

---