August 2010
---
In This Issue...
---
Dear Alumni and Friends,

President Bruce D. Benson
While I often write about funding difficulties facing the University of Colorado, it's also important to highlight the bright spots in our revenue picture. CU has four primary revenue streams: state funding, tuition, private giving and research funding. We have just released fiscal year-end numbers in the last two areas, and our results are strong.
Faculty researchers brought in some $847 million in research funding in fiscal year 2009-10 (which ended June 30). The total eclipsed last year's record of $711 million. Additionally, donors and foundations contributed $140.8 million in private support to the university, our second-highest total (behind $162.5 million in 2007-08). The two streams are an important part of our operations.
However, there is a rather large caveat to this success. In both these key areas, dollars are designated by funders (whether donors or federal agencies) for specific people, programs or infrastructure. Funds cannot be diverted to our malnourished operations areas, which include utilities, salaries, building maintenance and technology. Funding for those comes from tuition and from state funding, where we are sorely lacking.
Yet we certainly celebrate the value-added nature of research funding and private giving. They allow us to enhance teaching and learning as well as promote discovery and innovation.
The substantial jump in research funding ($711 million to $847 million) is due in part to one-time federal stimulus funds, which go away later this year. It is difficult to separate stimulus dollars because many research projects received those mingled with traditional research funding from agencies such as the National Institutes of Health, NASA and the U.S. Department of Education.
Still, we had a strong showing. Faculty research in areas ranging from renewable energy to cancer research will help us advance the economy, culture and health of our state and nation. In addition to fostering inventions and innovations that improve lives, the work in research laboratories across our campuses directly benefits Colorado by creating jobs. Research dollars also have a significant multiplier effect in the Colorado economy.
Additionally, we had a strong showing in private support. The $140.8 million donors and foundations contributed to CU this past year demonstrates that despite a difficult economy, they retain a strong belief in the university. Gifts help fund scholarships, support innovative programs, endow faculty chairs and build facilities on all our campuses.
Year-end results also revealed funds that didn't count toward year-end totals, but are significant nonetheless. We have $25.2 million in estate gift commitments (people who put CU in their wills), a 700 percent increase over the previous year and our highest total in estate gifts. Since the gifts are not realized until the donor's death, they are not counted toward our total. But they position us well for the future.
We appreciate the generosity and commitment of our donors. Their contributions allow us to enhance our efforts in initiatives ranging from the innovative Learning Assistants program to our rural health initiative. They also help with building renovations and additions on each campus.
I have often said that difficult economic times force decisions about business operations that should be made no matter the state of the economy. At CU, we view strategic resource management through the lens of all our revenue streams, along with our efforts to operate more efficiently and trim overhead. It's nice to have good news in areas such as fundraising and research funding, two important pieces of our funding picture. And it's equally important to focus on the entire picture.
For feedback, e-mail officeofthepresident@cu.edu
Sincerely
Bruce D. Benson
President
---
New CU Leadership on the job
As I reported to you in June, we have new leadership on our Denver campus and the Anschutz Medical Campus. Jerry Wartgow officially began his duties as interim chancellor last week, and Lilly Marks has been on the job for more than a month as vice president for health affairs and executive vice chancellor of the Anschutz Medical Campus. While the campuses remain consolidated in their administrative operations, each faces distinct issues that require focused leadership. Lilly will oversee strategic, operational and financial issues on the Anschutz Medical Campus. She will report to Jerry on academic issues and to me on other unique issues related to the Anschutz Medical Campus, including hospital affiliations, transportation, and other affiliate relationships.
Both are seasoned leaders who bring a wealth of knowledge and experience to CU. Jerry's resume covers the educational spectrum, from serving as superintendent of Denver Public Schools to president of the Community Colleges System to executive director of the Auraria Higher Education Center. Lilly, a CU alumna, has been at the university for nearly 35 years and has played key leadership roles at our School of Medicine and University Physicians, Inc. I have every confidence they will move us forward and will address the challenges facing each campus.
---
Collaboration across CU and beyond
It's been said of CU's campuses that we're all the same, but we're all different. While each campus has distinct strengths, programs, faculty and missions, we also have much in common. A keystone of my presidency has been fostering collaboration among our campuses and beyond. Increasingly, we are working together across department and campus lines on common issues.
For instance, researchers on the Boulder campus and Anschutz Medical Campus are teaming up on biotechnology initiatives ranging from developing new heart medications to finding ways to regenerate human ligaments. Faculty from our Colorado Springs campus are joining their colleagues in Boulder in AIDS research. Professors in Denver are working with their counterparts in Colorado Springs on homeland security initiatives. There are dozens of collaborations across our campuses and more in the works.
The cooperation doesn't end with CU. Our faculty have worked with those at Colorado State University for more than 20 years in fighting cancer. We have joined with the Colorado School of Mines, the National Renewable Energy Laboratory and CSU in the Renewable Energy Collaboratory, which is exploring new energy solutions. We teamed up with the University of Northern Colorado and CSU for the Colorado School of Public Health, the only initiative of its kind in the Rocky Mountain West. We have joined with nine institutions (community colleges and four-years) in southern Colorado on academic and administrative partnerships.
However, the collaborations aren't limited to academics. Our campuses are working on sharing services in areas ranging from purchasing to technology. The result will be increased efficiencies and better use of our limited funds. We have extended the initiative beyond CU. High-level teams from our university and CSU have reached an agreement to share services in information technology, library services, travel and procurement. We will explore more areas going forward.
Collaboration and sharing services make sense, academically and administratively. It not only allows us to take multi-disciplinary, multi-campus approach to significant problems facing our state and society, but to be more efficient and effective in our operations.
---
Princeton Review
One of my top priorities at CU is ensuring our reputation remains sound. We have worked hard to address problems immediately, to be open and transparent, and to promote the life-changing work that happens at our university. We understand that at such a big, complex place as ours, plenty of attention is paid to the good as well as the bad. While the former far outweighs the latter, sometimes negative news gets attention beyond its importance.
One example is the annual rankings from The Princeton Review (not associated with Princeton University), which has gained notoriety with its list of the top "Party School" and others. Our Boulder campus often makes the list. This year, I urged media outlets to be more diligent in how they report the story. Ranking categories with names such as "Party School" or "Reefer Madness" are tailor made for headlines, but it's important to examine the methods used to arrive at such designations.
I suggested that media scrutinize the data, as they would any statistical study. What they would find is extremely unscientific research methods that would earn any of our students an "F." Princeton Review bases its rankings on one question and student perceptions (not personal experience). It fully admits that responses are anecdotal. While we have asked for years to have details on things like response rate, the publication has declined. When pressed by the media this year, they revealed that about 325 students responded. Response from 325 out of 30,000 students could hardly be called statistically significant.
We fell in the rankings this year, but we will still press our case with media. Drug and alcohol use is a problem on our campuses, as it is on most every college campus. We have stepped up our efforts considerably in recent years to address the issue. Faulty research that leads to attention-grabbing headlines doesn't help our efforts. We know that both good and bad things contribute to our reputation. But unscientific and irresponsible surveys shouldn't.
---
News from our Campuses
It's well known that CU graduate students get plenty of opportunities to work alongside seasoned faculty on important research projects. What you may not know, however, is that our undergraduate students are also participating in research projects that can deepen their learning experiences, add to their professional portfolios, prepare them for graduate school, and assist faculty with leading-edge investigative work. One example is the promising new grant from the National Science Foundation that will fund the work of Colorado undergraduate students who will conduct research on renewable energy solutions. In particular, University of Colorado at Boulder students will work on projects that aim to convert biomass into biofuels and chemicals. The NSF recently awarded the grant to the Colorado Center for Biorefining and Biofuels, or C2B2. The research center is part of the joint renewable energy collabortory, whose members include CU-Boulder, Colorado State University, the Colorado School of Mines and the National Renewable Energy Laboratory. In addition, we are proud to note that five CU-Boulder graduate students have been awarded Fulbright scholarships. They will head to other countries to pursue graduate studies, advanced research and teaching projects. We are excited about all of the avenues these grants and scholarships will open up for our students, and the promise their research holds for our nation's future.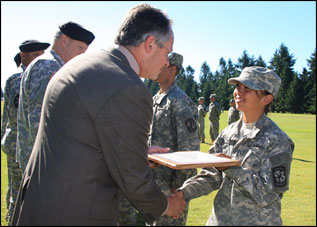 Chelsea Duenas of Colorado Springs received the Warrior Ethos Award at the U.S. Army's Leader Development and Assessment Course.
When it comes to outstanding students, CU has a lot to be proud of. Our students are academic and community leaders who seek opportunities to leave their mark and contribute to the world in many positive ways. Recently, a University of Colorado at Colorado Springs student was presented with an award recognizing her courage and all of the other qualities needed to become an Army lieutenant. Chelsea Duenas of Colorado Springs received the Warrior Ethos Award at the U.S. Army's Leader Development and Assessment Course at Joint Base Lewis McChord in the state of Washington. Duenas is a junior majoring in psychology, and was selected from among 489 Army cadets for the honor, which places her among the top Army ROTC cadets in the nation. She participated in the 29-day Leader Development and Assessment Course, also known as Operation Warrior Forge, which is the Army ROTC's capstone training and assessment exercise. The course tests cadets on their team-building and leadership skills, as well as their physical stamina, endurance and ability to navigate over difficult terrain.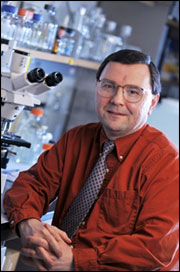 Dan Theodorescu
Cancer research at CU is gaining a lot of ground, and capturing the attention of researchers around the globe. Now we can add another prominent name to the list of people in Colorado committed to finding a cure and better treatments for cancer patients. Recently, the University of Colorado Cancer Center, based at the Anschutz Medical Campus, welcomed its new director, Dan Theodorescu, M.D., Ph.D. Theodorescu is a urologist and bladder cancer researcher who says he wants to reinvent how cancer research is done in Colorado, focusing on personalized medicine. He holds the Paul Bunn Chair in Cancer Research, and came to CU from the Mellon Urologic Cancer Institute at the University of Virginia. Theodorescu hopes to initiate a new era of Colorado cancer research and patient care that will enhance survival rates.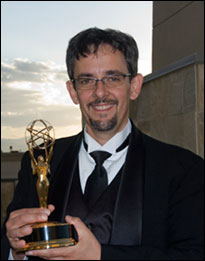 David Liban
A documentary about death and dying created by a University of Colorado Denver faculty member has won a Heartland Emmy Award. David Liban, an assistant professor of theater, film and video production at the UC Denver College of Arts and Media, produced, directed and edited the moving documentary, titled "Mortal Lessons." Liban's work is yet another example of the high-quality work produced by CU faculty on all four campuses. The College of Arts and Media is the first college in Colorado devoted exclusively to arts and entertainment, and uses the latest technology to encourage students to discover new forms and contexts for their art.