June 2010
---
In This Issue...
---
Dear Alumni and Friends,

President Bruce D. Benson
The University of Colorado is a complex place. If you visited any of the four Colorado cities that are home to our campuses, you would find a common focus on teaching and research excellence. Yet from Boulder to Aurora, Colorado Springs to Denver, each campus also has distinct strengths and challenges.
That is particularly the case at the University of Colorado Denver. Its campuses in downtown Denver (UCD) and the Anschutz Medical Campus (AMC) in Aurora are administratively consolidated, meaning they share operations in areas such as budget and communications, among others. Consolidation also fosters faculty collaboration across a variety of programs and disciplines. It provides a blueprint for the cost containment and enhanced services approach we are taking among our campuses, as well as with other higher education institutions in Colorado.
Yet UCD and AMC also face challenges unique to each that demand a distinct approach. That is why we are adopting a leadership model that will allow us to maintain the benefits of consolidation while also addressing issues specific to each campus.
| | |
| --- | --- |
| | Jerry Wartgow |
In late May, I appointed Dr. Jerry Wartgow Interim Chancellor, responsible for the oversight of the consolidated institution, with a particular focus on issues at UCD. I also appointed Lilly Marks Vice President for Health Affairs and Executive Vice Chancellor at AMC. I would like to thank Dr. M. Roy Wilson for his work as chancellor these past four years. He will take on new duties for CU, working more directly with national organizations to advocate for the university and garner support for our efforts.
Both Jerry and Lilly bring substantial strengths to CU. Jerry has been a leader at all levels of education in Colorado. He has served as superintendent of Denver Public Schools, president of the Colorado Community Colleges System, executive director of the Auraria Higher Education Center and acting executive director of the Colorado Commission on Higher Education. Recently, he was a Fulbright Senior Specialist in Hong Kong, advising eight public universities changing from the three-year British model to the four-year American model.
| | |
| --- | --- |
| | Lilly Marks |
Lilly is a CU alumna who has
worked at the university
for nearly 35 years, most recently as Senior Associate Vice Chancellor at our School of Medicine and Executive Director of University Physicians Inc., the business arm of CU's medical operations. She has deep insight and pertinent experience, having spent her career creating an environment that has allowed our health operations to thrive.
The primary challenge facing the consolidated institution (other than chronic underfunding) is national accreditation. Issues specific to UCD (downtown campus) include enhancing connections with the Denver business and education communities, strengthening links with K-12 and community colleges, addressing space needs on the overcrowded Auraria Campus (which we share with Metro State College and Community College of Denver), and focusing our academic and research activities.
Issues specific to AMC include determining the impact of national health care reform on our programs, addressing anticipated declines in health care-related national research funding, managing connections with other hospitals, shepherding the substantial growth on and around the campus, and tackling the significant transportation issues related to campus access, particularly traffic congestion.
I believe our new leadership model, similar to that at many institutions nationwide, will better serve the university, the state of Colorado and the nation. It will allow us to build on our strengths while tackling our challenges. I have every confidence that Jerry and Lilly are the right people to move us forward.
To provide feedback, write officeofthepresident@cu.edu
Sincerely,
Bruce D. Benson
President
---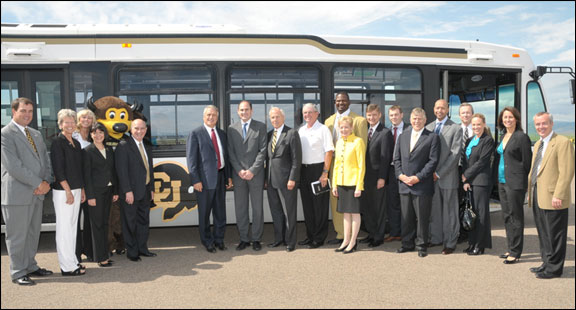 CU rolled out the red carpet in welcoming Pac 10 officials to Colorado on Friday. Pac 10 commissioner Larry Scott and his team were welcomed at Rocky Mountain Airport in Broomfield by a group that included Gov. Bill Ritter, President Bruce Benson, Chancellor Phil DiStefano, Athletic Director Mike Bohn, former Coach Bill McCartney and Chip, the Buffs' two-time national champion mascot. (Photo: Rupert Berrington/PRO-Motion)
As we put the finishing touches on this newsletter, we also completed an agreement to make the switch to the Pac 10 athletic conference, beginning in 2012. The move is a great opportunity for the university, yet it is also bittersweet. CU has had a significant history and storied rivalries in the Big 12, and the Big 8 (and Big 7) before that. But we are a great fit – academically and athletically – with the Pac 10. Our faculty have many substantive research partnerships with conference members such as Cal, the University of Washington, Stanford and UCLA, among others. The universities in the conference have high standards for academic integrity and excellence. It is also known as "the Conference of Champions," because its athletic teams have won more NCAA national championships than any other conference.
| | |
| --- | --- |
| | The University of Colorado Board of Regents on June 11 unanimously approved a resolution for CU to move to the Pac 10 athletic conference. Standing (l-r), Regents Tom Lucero, Monisha Merchant, Jim Geddes, Michael Carrigan, Joe Neguse, Kyle Hybl and CU Athletic Director Mike Bohn. Signing the agreement, seated (l-r), Pac 10 Commissioner Larry Scott, CU President Bruce D. Benson, CU-Boulder Chancellor Phil DiStefano, Board of Regents Chairman Steve Bosley. (Photo: Casey Cass) |
We have additional connections. CU has three times the alumni in Pac 10 states as in Big 12 states. California is our largest source of non-resident students and home to a large number of prospective students. Late last week, we hosted conference Commissioner Larry Scott and his team in Boulder for a Board of Regents meeting and press conference to announce our new partnership. There has been lots of excitement among CU alumni and friends about the move. We are part of a much bigger picture nationally in terms of conference alignment, but I believe this is a great move for our university.
---
The Colorado General Assembly wrapped up about a month ago, and it was a successful one for CU, with the rather large caveat that state funding for higher education continues to head south. The Legislature could not provide us any more funding, and in fact cut our appropriation by $50 million (which was backfilled by stimulus funds; that temporary relief will go away next year). But the Legislature did help us by passing Senate Bill 3, the higher education flexibility bill, which Gov. Bill Ritter is expected to sign this week.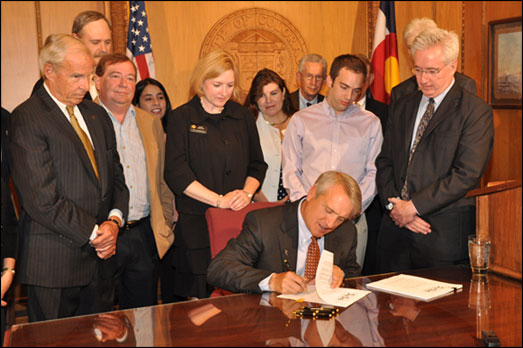 Colorado Governor Bill Ritter signs the higher education flexibility bill June 9 as legislative and higher education leaders look on. (Photo: Leonid Balaban)
The bill doesn't solve our funding woes, but it does give us the ability to be more efficient and effective in our operations. It also allows us to attract more international students, who will no longer count against statutory caps on our resident/non-resident student mix. Our Boulder campus, with 4 percent international students, ranks second to last among the prestigious Association of American Universities (of which we are a member). Enrolling more international students would not displace Coloradans. All qualified resident students would still be admitted. Casting a global net for students will broaden our reach as an international university and enhance the diversity of the campus experience.
Another important facet of the flexibility legislation is allowing the university to operate under fiscal rules specific to higher education, rather than the one-size-fits-all approach of the state fiscal rules. The move will allow us to be more entrepreneurial, take better advantage of our buying power and untangle the red tape that often inhibits efficiency. However, it won't come at the expense of accountability. We will still have legislative and internal audits, federal grant compliance and oversight from our elected Board of Regents.
Perhaps the most discussed aspect of flexibility legislation has been tuition flexibility. Higher education governing boards will have the ability to set tuition for their institutions (up to 9 percent; to exceed that, we need to submit a plan to the state). While some worry the move would lead to unchecked tuition increases, I don't see that happening. We understand our market, and we will not price ourselves out of it. Additionally, we have oversight from a Board of Regents elected by the people of the state, and the board is a substantial check and balance on the cost of a CU education.
We had other pieces of legislation pass this session that will help the university. Noteworthy is Senate Bill 58, a loan forgiveness bill that will help us increase the number of nursing faculty, which is a key part of expanding our nursing work force.
We appreciate the efforts of our elected officials to support higher education. While underfunding is a constant problem, our governor and legislators fully understand and support the role our colleges and universities, particularly research universities, play in Colorado's economic health and quality of life.
---
Sharing Services
As I mentioned at the outset, CU is a complex place. We are continually looking for ways to improve our efficiency and effectiveness. One big focus is sharing certain technology-intensive services across our campuses and central administration in areas such as information technology, human resources and purchasing. We are also in active discussions about collaboration with other colleges and universities in Colorado to save money and improve services.
In May, we kicked off a substantial effort with our colleagues at Colorado State University. Our broad goals are to enhance service delivery and contain costs for both institutions. We are starting with four primary areas: information technology, risk management, library administration and travel management. Teams of senior administrators from each university are collaborating to find ways to meet our goals. CSU Chancellor Joe Blake, President Tony Frank and I delivered the charge to the group, and we are confident the effort will result in enhanced operations and savings. I will keep you apprised of progress.
---
News from our campuses
CU offers abundant academic and career-building opportunities to students. What you may not realize is that CU students (undergraduate and graduate) also find many opportunities to conduct real-world research alongside our distinguished faculty members. Recently, graduate students from the University of Colorado at Boulder's aerospace engineering program prepared three biomedical payloads for the final, historic flight of the space shuttle Atlantis. One of the payloads will allow scientists to study microorganisms that flourish in the low-gravity conditions of space to assess potential health impacts to astronauts and spacecraft.
Two other major initiatives also will provide our students with opportunities to gain real-world research experience before graduation. CU-Boulder's Colorado Initiative in Molecular Biotechnology, or CIMB, in April received a $15 million federal stimulus grant to speed the construction of the Jennie Smoly Caruthers Biotechnology Building. When completed, the research facility will host more than 60 faculty members and more than 500 graduate students, researchers and support staff. Meanwhile, thanks to a $1.8 million grant from the Howard Hughes Medical Institute, or HHMI, CU-Boulder undergraduate students will continue to work in labs alongside faculty. The campus's Biological Sciences Initiative will administer the funding to further undergraduate science education and K-12 science outreach. Since 1989, CU-Boulder has received $11.5 million in HHMI grants to advance student research. Opportunities like these are helping CU educate the next generation of scientific innovators, and we are grateful to those who continue to support their high-flying endeavors.
Our University of Colorado Anschutz Medical Campus continues to expand in size and reputation, and that includes University of Colorado Hospital, Colorado's top teaching medical center and a "magnet" facility recognized for nursing excellence. Recently, UCH announced plans to move forward with a $400 million expansion for a second inpatient tower to meet a growing demand for health care services in the Rocky Mountain region. The project will add more patient beds, more emergency care and more jobs to the AMC and Colorado. Since moving its inpatient facilities from Ninth Avenue and Colorado Boulevard in Denver to AMC in 2007, the hospital has been working at or above capacity. The new tower is slated to open in 2013, and will immediately add 144 staffed inpatient beds to the hospital's current capacity of 407. The tower will also include space to add another 120 to 144 beds to meet future demand; a larger emergency department; more operating rooms; and additional diagnostic and treatment facilities. Along with new jobs, the project will add even more of an economic boost to Aurora, the Denver metropolitan region and Colorado through millions of dollars in material costs and tax revenue. CU's total economic impact to the Colorado economy amounts to $7 billion annually, and that includes the contributions of our great teaching hospital.
For the past 20 years, our CU Succeed Gold and Silver programs at the University of Colorado Denver have helped hundreds of Colorado high school students get a head start on college. The academic programs, founded in 1990, expose high school students to university-level coursework before they set foot on a college campus. Many participants go on to become the first in their families to attend college. CU Succeed Gold courses are taught on high school campuses by high school faculty members whose education and experience are appropriate for a lecturer appointment in one of CU's academic departments. CU Succeed Silver courses are taught by UCD faculty on high school campuses. Students earn letter grades on UCD transcripts, and they can transfer these credits to other CU campuses and universities when they are ready. Courses are usually offered for $50 each, so students can begin earning college credit without paying full-time college tuition rates. And CU Succeed is self-supporting, which means it does not rely on state funding. This year, the program generated $1.5 million in revenue, which it shared with schools to offset instructional costs and to provide funding for professional development, fellowships and scholarships. This academic year, it has served more than 7,000 Colorado students in 40 school districts in 21 counties. Students are earning credit in anthropology, biology, chemistry, communication, economics, English, geology, math, physics and many other disciplines. Last year, 150 CU Succeed students chose to continue their college education by enrolling at UCD. Another 400 enrolled at CU-Boulder, and 100 enrolled at UCCS. CU Succeed is a fine example of the many ways CU gives back to the Colorado community, and we could not be prouder of its success.
One of the most generous merit-based scholarship programs for southern Colorado students recently graduated its first class of students at the University of Colorado at Colorado Springs. Eight members of the initial Kane Family Scholars group graduated from UCCS on May 21, and we could not be more proud of their achievements. Announced in January of 2006, the scholarship program covers the cost of books, tuition and fees for grant recipients for four years. The program initially was only for students at UCCS and Pikes Peak Community College, but now includes students at Colorado State University-Pueblo, Pueblo Community College, Trinidad State Junior College, Otero Junior College and Lamar Community College. More than 120 students now participate in the program, which is administered by American National Bank with assistance from the UCCS Office of Student Financial Aid and Scholarships. Like many pioneering Colorado ranching families, the Kanes of Fountain believed in independence through education. We tip our hats to their legacy, and to the support they are providing to Coloradans eager to explore their own intellectual and professional frontiers.