Finding the soul of the Irish pub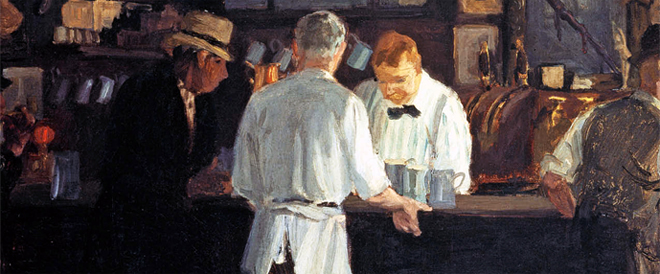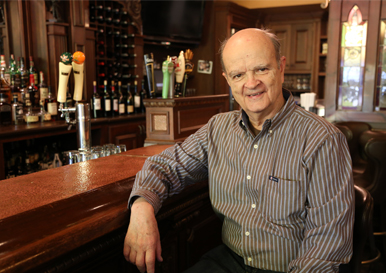 Robert Meyers' yearlong, 10,000-mile quest to find the best Irish pubs in America for his book also led him to the soul of the ubiquitous institution.
"It's a gathering place, it's a second home, it's where life's great moments are lived and shared. People celebrate births and birthdays, weddings and anniversaries, and even funerals," said Meyers (Political Science, '61). "There's something almost magical or mystical about an Irish pub. It's just an incredible, wonderful institution."
Meyers' affection for Irish pubs is on full display in the coffee table book, Irish Pubs in America: History, Lore and Recipes, available from Deeds Publishing . Its beautiful photography and lively writing chronicle more than 50 Irish pubs across the country. Some are institutions in traditional Irish-American cities such as Boston, Chicago and New York. Others are relative newcomers in Honolulu and Los Angeles. Some could be considered dives. The common thread is that each has its own interesting story or special ambience.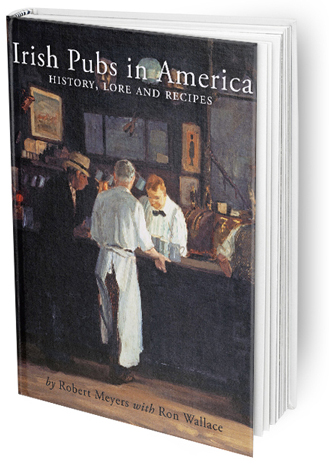 There's Coleman's Authentic Irish Pub in Syracuse, N.Y., where a wee door for Leprechauns is next to the main entrance, and a wee phone booth is outside should they need to call for a ride home. Or the venerable Black Rose in Boston, which features flags of nearly all Ireland's 32 counties and a gargoyle mascot. Pub goers at Ri Ra in Atlanta walk on a parquet floor imported from the Design House at the Harlan and Wolf Shipyard in Belfast, where the Titanic was designed and built. Denver has two pubs featured, Nallen's and Scruffy Murphy's. The Field in Dania Beach, Fla., may be the most unusual; it was built under and inside a 120-year-old banyan tree.
Meyers said the difficult part of putting together the book was not which pubs to include, but which to omit. He and collaborator Ron Wallace, who owns Irish pubs in Atlanta, started with more than 150 pubs. They culled the list and then began the task - if you can call it that - of visiting 50 or so, looking for those elements that made it stand out.
"We searched for that certain something that makes a pub a story," Meyers said. "When you walk into a great pub you know it the minute you walk in."
The site visit portion of the project was where skills he learned at CU came in handy. "I'm an incurable researcher," he said. The project took a year to research. Meyers estimates he traveled 10,000 miles in the effort.
The book not only celebrates significant Irish pubs across the country, but delivers lessons in history and historic preservation. Sidebar articles give a short synopsis on everything from whiskey distilling to building the Erie Canal to banyan trees.
"We tried to make the book not only entertaining, but informative," he said.
He based its format on his previous effort, "Barns of Old Milton County," a pictorial and narrative story of the architecture and community of historic Georgia barns. His career as author is the third for Meyers. He joined the foreign service soon after leaving CU, serving in posts including Panama, Peru and Switzerland. He left the foreign service for an opportunity in the private sector with Bendix, then took up writing after retiring.
As if interesting profiles of pubs and pertinent history lessons weren't enough, Meyers and Wallace also compiled recipes from the pubs, either their signature dish or one handed down through the owner's family. Each recipe is accompanied by a brief explanation of its significance by the pub owner.
While the Irish pub is nearly as ubiquitous around the world as the Chinese restaurant, Meyers said the special connection between Ireland and America make the book particularly relevant.
"This book is a tribute to the Irish and what they have accomplished and contributed to the United States," he said. "We Americans owe the Irish so much and we use the book as a vehicle to celebrate that."
---
Make a difference. Give today!

---