Alumnus Advocates for Alma Mater and Beyond
Angela Dougan ('95, Sociology)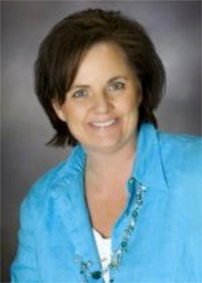 "Hear people. Understand them: their motivations, how they work, and how they relate to one another." These seemingly simple words from Bob Hughes, UCCS professor of sociology, remain in the mind of Colorado Springs City Councilwoman Angela Dougan ('95) every day. In fact, they may have transformed the course of her life.

A sociology major at UCCS, Dougan was frequently told she'd make a good business student. While business was clearly one of her strengths, however, Dougan chose to stay the course and obtain a BA in sociology – a decision that was largely influenced by Bob Hughes' approach to teaching.
"Multiple choice exams were not my strength," Dougan recalls, "but Professor Hughes always gave us an option: a multiple choice exam or an essay. I chose the essay. After the challenge of responding to a difficult question, he encouraged me to give the multiple choice exam a try, just for fun. I got 100%. His encouragement taught me to try new things, even if I was afraid I'd fail."

Achieving a degree can improve anyone's career, but for Dougan, getting her bachelor's degree at UCCS was a turning point in her life. As a working, newly married student, the campus was a great fit for her, as it offered a great education and teaching force, all with the feel of a small university. Here, Dougan learned about making
commitments, setting goals, and seeing them through to success.
Although Dougan never envisioned herself entering the world of politics, after the birth of her two daughters, she began to see her role in the community differently.
"I see myself as a mom first," she explains. "It drives me to make my kids' lives better, to give them opportunities to stay in Colorado Springs and to create resources that foster the opportunity for a prosperous life."
As Dougan began thinking this way, she realized that Colorado Springs is – just on its own – a huge win. "We are lucky to have a great local community that is generous and wonderful," she says. "I wanted to be a part of that. I wanted to create a city that was business-friendly, education-friendly and downtown-friendly. I wanted people to understand that we can work well together without fighting if we can love who and what we are and what we have in this city. We can work together to succeed."
Over the years, Dougan has been amazed at the growth of her alma mater and its influence in the Pikes Peak Region. Looking toward the future, Dougan believes that UCCS will continue to be an integral part of the development of Colorado Springs. She envisions better transportation options to help students get to and from campus, as well as the vast opportunities that will come from the branch medical campus.
Given her role on City Council, the concept of advocacy is something that Dougan understands well. As an advocate for UCCS, Dougan wants to work to create opportunities that will make it easy for UCCS to continue moving forward. She envisions the City as a partner to University efforts, not an obstacle. UCCS, Dougan states, "has everything students look for. We're great outside, but some people can't see how we've changed inside. The campus offers one of the best educations you can receive, and it's right here in our back yard. Don't overlook the opportunity."
By the same token, Dougan believes that all alumni, wherever they live, play a powerful role as advocates for UCCS. As advocates, "alumni should learn about what UCCS is today and tell that story," she offers. "Understand what a gem the campus is and be vocal about the ways it has influenced you. The educational advantages UCCS gave you will help you the rest of your life. Alumni might think they can't contribute in a meaningful way, but if we work together to share the UCCS story, we can get a lot done."
When asked if she has any advice for her fellow graduates who might be considering a future in politics, Dougan isn't shy about sharing the best advice she's been given. And it's advice, she says, that works both in and out of the political sphere.
"Know your core principles and values. If you don't, you'll make decisions based not on them, but on everything that is happening around you. And, when you do decide, be able to defend that decision. If you can defend it, it's the right one."
---
Make a difference. Give today!

---