CU all over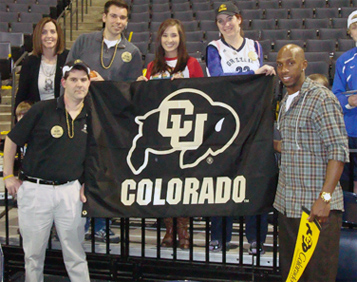 Last year, the Memphis Buffs held a fundraiser with the Memphis Grizzlies NBA team and CU alumnus Chauncey Billups to benefit the Memphis Forever Scholarship Fund. The chapter is in the process of planning this year's event.
I had a recent exchange on Twitter with the Memphis Buffs CU-Boulder Alumni Chapter. George "Scott" Seltzer, leader of the chapter since 2009, tweeted, "I've enjoyed leading this chapter from the 1st day I created it. I'm happy 2 be a CU advocate in TN." That's great news. I'm inspired by Scott's dedication and loyalty to CU, and I'm proud of the communities that he and others like him around the nation – and even the world – continue to build.
As the Bay Area Buffs held its annual "Buffs Night with the Golden State Warriors," the New York Buffs were gearing up for the tree lighting ceremony at Rockefeller Center. Not long ago, I received a letter from an alumna who let me know how much she enjoyed a "CU Alumni in London" event. This chapter effort was spearheaded by Chancellor Phil DiStefano's visit in September. I was happy to hear that CU is being celebrated, as she put it, "way over there." There are five other international markets where we have established chapters, including Tokyo, Saudi Arabia and Beijing, with plans to expand.
CU alumni chapters not only are creating community, they're also giving back to their communities. The New York Buffs held a fundraiser for victims of Hurricane Sandy and this summer. The Memphis Buffs held a fundraiser for victims of the Waldo Canyon fire and the Aurora shooting victims. Chapters all over the country are dedicated to raising funds for students to attend CU.
From Seattle to San Francisco to Kansas City to Dallas, more than 20,000 CU alumni are getting together, organizing watch parties for the Buffs men's and women's basketball teams, hosting fundraisers and building bonds with fellow CU grads.
And it's catching on. With more than 34,000 Mountain Lion alumni, the University of Colorado Colorado Springs recently launched its first chapter in Washington, D.C. In spring 2013, UCCS chapter activities will also begin in Denver, Phoenix and Seattle.
While the CU Anschutz Medical Campus – including the School of Medicine, College of Nursing, School of Pharmacy and School of Dental Medicine – do not have chapters, they have organized regional events.
The School of Medicine promoted an event with Dean Richard Krugman in Beverly Hills where he met alumni for brunch in October. An Alumni and Friends event was held at the annual Association of American Medical Colleges meeting in San Francisco in November with 35 alumni, faculty and friends.
Physical Therapy alumnus Joel Larmore, owner of Rehab Visions, is hosting a cocktail party in his home in San Diego during the American Physical Therapy Association annual Combined Sections Meeting in January. Joel serves on our Physical Therapy Scholarship Endowment Committee and he is committed to helping raise funds for PT scholarships.
We appreciate our alumni's continued contributions to and support of the University of Colorado. And we've got folks in place to help connect those who want to get involved and share their love for CU. Here's the contact information for our campuses to get involved, or even establish a chapter in your area.
Whether or not you're an alumnus, all CU supporters are welcome in our CU Advocates program, which provides you the benefits of engaging with CU.
May your holidays be merry and bright and we look forward to hearing from you in the months and years ahead. Thank you, as always, for your support of CU.
---
Make a difference. Give today!

---