Nursing alumna combines clinical care with technology to transform health care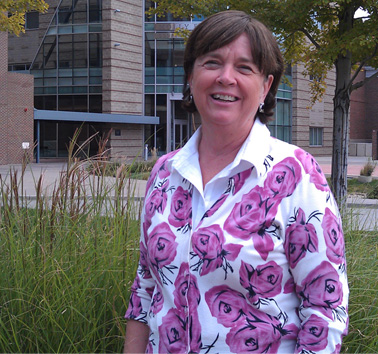 At the University of Colorado, we often speak of the importance of being a leader in technology and health care advancement. College of Nursing alumna Mary McMahon, M.S., BSN, RNC, is doing both.
Mary received her master's degree from the college in 1984 and spent the majority of her nursing career in women's and infants' health. She was a director of perinatal care for more than 12 years, most recently at Memorial Hospital in Colorado Springs. Mary then served as a consultant in transformation services for three years, which led her down an important new path: She graduated in the first cohort for the College of Nursing's informatics certificate. And for the past six months she has served a broader range of patient needs as clinical nurse specialist in informatics at National Jewish Health.
Informatics is the intersection of health sciences, computer science and information science, she explained. "I say my job is as a translator; that all three areas speak different languages. I speak for the clinical practitioners," she said. "It was a big career change for me."
As a director of nursing at various hospitals, Mary focused on perinatal care. Within that job, she helped select hospital computer systems to do electronic medical records and specialty systems for perinatal. "I got the opportunity to work as a consultant throughout the U.S. and Canada to enhance hospitals' medical records, so I thought, 'I'd better go back to school and learn what I'm talking about!'"
In the summer of 2010, Mary contacted her former nursing professor, who enthusiastically told her about the new informatics certificate program. The program was funded through the American Recovery and Reinvestment Act.
"Working full time and traveling and going to school, it was pretty intense, but it was well worth it," she said.
Now, an average day for Mary at National Jewish Health includes projects such as helping to plan and implement a patient portal. "The portal is so much more compliant with HIPAA (the Health Insurance Portability and Accountability Act of 1996 that protects the privacy of a patient's health information). Email is not HIPAA compliant, but the portal is," she said. Mary ensured "super-users," or experts in their clinical areas, were trained and ready to go when the portal went live Oct. 1.
Mary said she also monitors the status of electronic medical records and meets with leadership such as chief medical informatics officers, heads of medical records and information technology services to plan upgrades with a focus on electronic medical records.
Although she no longer interacts with patients at the bedside, Mary is a people person and can be found out and about spreading the word to make patients confident in their medical care. Many patients at National Jewish are from out of state, she said, adding she recently spoke over lunch with a couple from Florida and a man from Texas. "I talked to them about patient portal and how the portal will help them communicate with their doctors here at National Jewish and get important information from their medical record."
Mary credits her grandfather's influence for her choice to go into nursing. "I remember when I was a teenager, him telling me he'd always hoped one of his granddaughters would be a nurse. He was very special to me and I decided I would be that granddaughter," she said. "He would always say to me, 'Your patients will be so lucky because you have such a nice smile!'"
Throughout her nursing career in perinatal care and now in informatics, Mary has not only shared her smile, she's given patients reason to smile. "My job is assuring that safety and quality for the patients are met, which is what most nurses are doing, we just do it in our different areas of focus."
In addition to her family and patients, giving back to her alma mater is important to Mary. She is a member of the College of Nursing Alumni Association Board of Directors. "It's such a great opportunity to stay involved with not only the College of Nursing but with the University of Colorado," she said. "I'm really proud to be an alum. My daughter's an alum who earned her bachelor's from CU-Boulder, and I always like to point out that I'm a Buffalo, too!"
---
Make a difference. Give today!

---