President Bruce Benson
The University of Colorado is about the stories of people whose lives intersect with our university. Alumni, students, faculty, parents and friends all have their own CU stories. I hear them almost every day and am always heartened by the positive influence our university has had on so many lives.
I have my own CU story, one in which a page recently turned. Bruce Curtis, my former professor, mentor, adviser and friend, passed away in February at age 93. He exemplified the best of what our faculty can be: an expert in his field, an exemplary scientist, a caring teacher, and a well-rounded and humble man with a dry wit and deep kindness. He was a person who brought out the best in his students and stimulated and engaged them in learning in ways that extended far beyond the classroom. Bruce influenced generations of geologists, including me.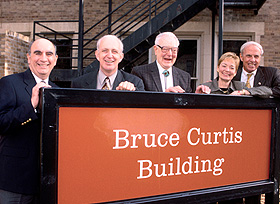 Bruce Curtis, center, helped dedicate the building named for him in 2002. (File photo by Larry Harwood/University of Colorado)
I transferred to CU from Cornell in 1961 to pursue my passion for petroleum geology. I found in Bruce Curtis a man whose career as the Rocky Mountain regional exploration manager for Continental preceded and informed his three decades teaching at CU. He blended theoretical knowledge with practical experience in his teaching, and he had a tremendous impact on my life and career.
After I earned my bachelor's degree, I began pursuing a master's while also starting my company. Starting a company may sound exciting, but the reality was I was drilling for oil in Kansas with no helper using a junk rig mounted on a beat-up truck. Yet when I showed Bruce what I was doing as we discussed progress on my master's, he suggested that I keep drilling. It was sound, practical advice from someone whose experiences told him that, although heading back to the classroom can be immensely valuable, in this instance the work I was doing in the field was also of great value. I put my studies on hold and put Bruce's lessons to work in the field. I don't regret that decision.
I know Bruce Curtis had a similar effect on many of my fellow CU geology students. He was one of those professors whose influence you feel years after leaving the university. Many of my fellow geology alumni still carry notes from his class some 20 years after graduating. As Mary Kraus, former chair of CU-Boulder's Department of Geological Sciences, noted, Bruce knew full well that students come seeking higher education, but he also recognized faculty have the obligation to engage them in the learning process to ensure students get the best of themselves and the best of their education.
His success doing so led two of his former students in 2001 to establish the Bruce Curtis Graduate Fellowship. It has supported nine students to date and aims to get to $1.5 million, which will support two students annually. It is a fitting legacy for a man whose life and career had a positive effect on generations of students.
In addition to supporting that effort, I was pleased to have an additional opportunity to honor his impact on my life. In 2002, I contributed to the effort to refurbish the old geology building, which was home to the geology department, into a museum. When CU officials asked me about naming it, I could think of no better name than the Bruce F. Curtis Museum Studies Building. In typical fashion, Bruce was overwhelmed by the honor and humbly appreciative.
CU has thousands of stories similar to mine. We are fortunate to have faculty who not only are exemplary teachers and researchers, but also caring people who engage students and have a profound influence on their lives that extends far beyond the university. I know from experience that CU stories are at the heart of what makes our university great.
For feedback, contact officeofthepresident@cu.edu
Sincerely,


Bruce Benson
President