Save the coral reef and the ecology: Leeds alumnus leads the way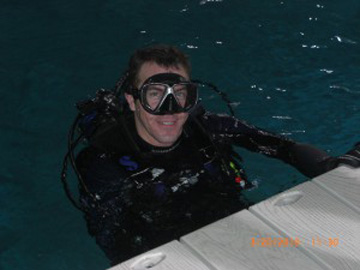 In addition to their beauty, coral reefs are an integral part of the Earth's ecosystem, providing homes for nearly half of the fish the world eats. The coral reefs are also at risk of extinction. But their prognosis is looking up, thanks in part to Leeds School of Business alumnus Brett Howell.
Howell, who earned his MBA in May 2010 with a concentration in real estate and sustainability, joined the Georgia Aquarium in Atlanta in October as the Walker Conservation Fellow. He's exploring how to apply market-based approaches to making coral reef restoration financially sustainable.
Howell said his time at CU introduced him to the world of social entrepreneurship and how business principles could be applied to "doing good by doing well." He cites the Center for Education on Social Responsibility (CESR) course Social Entrepreneurship in Emerging Markets, taught by Francy Milner, as his inspiration.
"My CU MBA changed the way I view the world and encouraged me to think about ways that markets could help solve environmental problems. The project with Georgia Aquarium is the next step – the chance to test the application of market-based approaches to coral reef conservation," Howell said.
Howell is testing models of ecological economics and marine payment for ecosystem services (MPES), an idea he developed to apply concepts from real estate valuation to marine conservation. The project draws upon a variety of techniques not traditionally applied to the marine environment to address long-term coral restoration and ecosystem recovery. If successful, the MPES model has the potential to be replicated worldwide, helping to restore reefs to their former condition and maintain them as havens of biodiversity.
He is focusing initially on the Florida Keys National Marine Sanctuary, working through an existing collaboration between Georgia Aquarium and the Coral Restoration Foundation, and a new partnership with the Property and Environment Research Center (PERC), which came about after Howell's participation as an "Enviroprenuer Fellow" in PERC's Summer 2011 "Enviropreneur Institute."
Howell's dedication to his alma mater is evident as he recently received approval from the Georgia Aquarium to bring on a CU-Boulder intern. He is also planning to work with an undergraduate or MBA team for a class project. Follow his journey through the blog gaiaendeavors.com or via Twitter (@BrettWHowell) or you can support the project by adopting one of CRF's corals.
Follow CESR on Facebook. Read the Leeds story.
---
Make a difference. Give today!

---