We want you
Dear Friends and Alumni,
President Bruce Benson
I have been involved with the University of Colorado for a half century, from my days as a student on the Boulder campus in the early 1960s through a variety of volunteer and fundraising activities over the years to my time as president.
You would think that someone deeply involved with CU for five decades would no longer be surprised by the great things that happen on our campuses, but I am. I see how the first-rate education we provide changes lives. I watch our students accomplish substantial things while still in school. I learn about research our faculty members conduct that drives innovation and makes the world a better place. I marvel at the leading-edge work we do in health care education, research and clinical services. And I am proud of the contributions we make in communities in Colorado and beyond.
I use this newsletter and other vehicles to share those stories as much as I can. But today I am asking for your help.
We have created CU Advocates, a network of alumni, friends, volunteers and others who can help us tell CU's stories, promote its value and convey its opportunities and challenges. I know there are many who are eager to help. I meet them frequently in my travels throughout Colorado and across the country. They often engage me after talks or by email, asking what they can do for the university.
CU Advocates is a formal program in which our alumni and friends will help us communicate our value and challenges, get involved with CU as volunteers, engage elected officials, tout the university to prospective students or support our Creating Futures fundraising campaign. You can learn more and sign up on the CU Advocates website.
We are undertaking this initiative to help enhance our reputation, ensure our funding streams and engage those people who feel most strongly about CU — you.
While we will provide you advocacy tools, the important thing about CU Advocates is that it will harness the power and pride of thousands of our alumni and friends, all of whom can make a difference. You can help tell our stories and share the value we bring to our communities, state and nation. You will have a positive impact volunteering for CU. Your voice will help convey to elected officials the importance of CU and higher education. You can have a positive influence on future generations by recommending CU to a student.
I invite you to join me in learning about the wonderful things that happen at our university and to share with others. Together, we can ensure that CU continues its important work in advancing the economy, health and culture of Colorado and beyond. Thank you for being part of our efforts.
For feedback, contact officeofthepresident@cu.edu
Sincerely,


Bruce Benson
President
---
Creating Futures eclipses the $1 billion mark
In early May I shared with you that we had launched the public phase of Creating Futures, our $1.5 billion fundraising campaign, the most ambitious in CU history. We began the silent phase of the campaign in 2006 and made significant progress toward our goal before going public, a common approach in campaigns of this type.
I chair the campaign along with my wife, Marcy. We were encouraged to learn recently that we have passed the $1 billion mark in private support. Reaching this milestone is testament to the confidence our donors and partners have in CU and the great work of our faculty, staff and students. Private support allows us to add value to the people, programs and places across our four campuses.
Our priority areas for the campaign include scholarships, endowed faculty positions, private research programs, buildings and infrastructure, and academic support. It's important to note that while private contributions substantially augment what we do, they provide only modest relief to our beleaguered budget. Some 98 percent of contributions are earmarked by the donor for specific uses; we cannot divert private dollars to offset tuition or pay for operational costs such as compensation, utilities and technology.
Private contributions are an investment in excellence at CU. They allow us to provide scholarships to deserving students, recruit and retain top faculty, engage in research that improves lives and creates jobs, and build facilities worthy of a top-tier university. Our students, faculty and campuses are the direct beneficiaries of that investment, but the people of Colorado and the nation also benefit from CU's contributions to our society and economy.
We appreciate the generosity of those who have contributed, and we look forward to sharing the news with you that we have reached, and perhaps even exceeded, our lofty goal.
---
University of Colorado Hospital is tops in the nation
The University of Colorado Hospital was rated the No.1 academic hospital in the United States for delivery of quality health care by the University Health System Consortium. The 114-member national academic hospital association measured the CU Hospital against such renowned competition as the Mayo Clinic, Ohio State University Medical Center, UCLA Hospital and Northwestern Memorial Hospital. The prestigious award took into account outcomes in areas ranging from clinical effectiveness to patient safety. The award follows on the heels of the July U.S. News & World Report rankings of UCH as one of the best in the country and the best hospital in the Denver metro area. Congratulations to the physicians, nurses and staff members who provide exemplary care to our families, friends and neighbors while also advancing CU's academic and research missions.
---
Merchant resigns from Board of Regents
Monisha Merchant has resigned from the University of Colorado Board of Regents to take a post as senior advisor for business affairs for Colorado Sen. Michael Bennet. Merchant, a Lakewood Democrat whose six-year term representing the 7th District began in January 2009, resigned Sept. 25.
We appreciate her dedicated service to the people of the state and to the University of Colorado's students, faculty, staff, alumni and friends. She has been a diligent board member who thoughtfully addressed critical issues facing the university and has also been a staunch advocate for ensuring that CU continues its place as one of the top public universities in the world. We wish her well in her new endeavor.
Under state law, the governor appoints a successor to serve until the next general election, set for November 2012. That election will determine who holds the seat for the final two years of the term.
---
National Solar Observatory to partner with CU-Boulder
We are excited that the University of Colorado Boulder has been chosen as the site of the National Solar Observatory (NSO) headquarters by the Association of Universities for Research in Astronomy (AURA) in Washington, D.C.
This project will bring up to 70 scientists, engineers and staff to CU-Boulder – where the headquarters will be housed on our east campus – and a payroll of roughly $20 million. It will add to the already outstanding federal laboratory presence in Boulder and at CU – indeed, this presence was a central feature of our selection – and it will build upon our considerable successes in space science and solar research.
This project is the culmination of the combined efforts of the Office of the Vice Chancellor for Research, the Office of the Vice Chancellor for Strategic Relations, the Office of the Provost and a number of academic departments at CU-Boulder, led by the Department of Astrophysical and Planetary Sciences and Associate Professor Mark Rast, the team leader who wrote our proposal to AURA. We also received assistance in this effort from city and state agencies throughout Colorado, as well as strong support from Gov. John Hickenlooper, Sen. Michael Bennet, Sen. Mark Udall and Rep. Ed Perlmutter.
Join us in congratulating Professor Rast and all the supporting folks who have helped secure this important facility. To read more about the NSO and our selection to host its headquarters, please visit the main CU website at: http://www.cu.edu.
---
UCCS chancellor returns to White House a 'Champion of Change'
UCCS Chancellor Pam Shockley-Zalabak is getting to be a regular at the White House. Last year, she and CU-Boulder Chancellor Philip P. DiStefano were recognized for efforts to advance science, technology, engineering and math – or STEM – education. Last month, she returned and was honored as a "Champion of Change," leaders making an impact with challenges affecting the country.
Schockley-Zalabak participated in a White House roundtable discussion on the positive impact of many community colleges across the nation. She told the story of the Southern Colorado Education Consortium, a partnership she leads among two- and four-year colleges in southern Colorado to improve student success in the region. The event was part of President Obama's push to significantly increase the number of college graduates by 2010.
See a video of the roundtable at the White House.
---
Six University of Colorado faculty members receive Distinguished Professor designation
Being chosen a Distinguished Professor is the highest faculty honor at the University of Colorado. We are pleased to announce six CU faculty members who are the most recent group recognized for this distinction.
Distinguished Professors
are faculty who demonstrate exemplary performance in research or creative work, a record of excellence in classroom teaching and supervision of individual learning, and outstanding service to the profession, university and community.
Candidates are nominated by colleagues and deans and, with the unanimous recommendation of a committee of Distinguished Professors, forwarded to the Board of Regents, which provides final approval. Honorees are:
Wayne Cascio, Ph.D., professor of management at the Business School, University of Colorado Denver.
Peter deLeon, Ph.D., professor of public policy in the School of Public Affairs, CU Denver.
Stephen I. Goodman, M.D., professor of pediatrics in the CU School of Medicine, Anschutz Medical Campus.
Peter M. Henson, Ph.D., professor of pharmacology, immunology and pathology in the CU School of Medicine, Anschutz Medical Campus
E. Chester Ridgway, M.D., MACP, professor of endocrinology in the CU School of Medicine, Anschutz Medical Campus.
Richard Traystman, Ph.D., vice chancellor for research, CU Denver, and professor in the CU School of Medicine, Anschutz Medical Campus.
Cascio, deLeon and Traytsman, were honored by the University of Colorado Board of Regents at its September meeting. Goodman, Henson and Ridgeway will be honored at the regents' Nov. 9-10 meeting at CU-Boulder. With the addition of the six designees, 65 Distinguished Professors have been chosen since the program's inception in 1977.
Find out more about the professors.
CU Connections
---
Another partnership with community colleges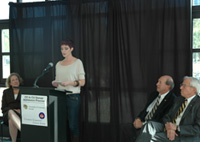 click for larger view
This week the University of Colorado Denver announced the CC to CU Denver Admission Promise, a program for students from the Colorado Community College System to easily and seamlessly transfer to CU Denver to earn a bachelor's degree. Students who meet the requirements of the program automatically are admitted to CU Denver. Students in the program will receive academic advising support to make this transition when they are attending community college and after they transfer to CU Denver. The program builds on the success of CU Guaranteed and other community college transfer programs.
---
'Rising Star' sings praises of UCCS education

Lisa Pratt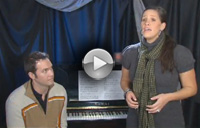 VIDEO: Trust Your Hopes, Not Your Fears

A military spouse understands the challenge of frequent relocations all too well. Alumna Lisa Pratt, whose husband is in the Army, attended three colleges in three years before landing at the University of Colorado Colorado Springs. But it was at UCCS that Pratt found her voice and the outstanding faculty support that assured her success – despite being challenged with severe dyslexia. Through the mentorship of her music and theater instructors and an outstanding Army program called Operation Rising Star, Pratt toured the country singing for the troops and cut a CD that was released in August.
"I've been able to do what my profession is and still be with my husband. It's been huge in my life," she said. "I get to do what I love."
Operation Rising Star is an Army program that provides soldiers and their family members an opportunity to reach their dreams of becoming a recording artist. "It's the Army's version of American idol," Pratt said.
Completing her bachelor's degree in visual and performing arts at UCCS in May 2009 helped give Pratt the confidence to take part in that year's competition at Fort Carson. She won. She next bested other installation winners and quickly found herself being flown to Fort Belvoir in Washington, D.C., to compete with 11 other finalists.
During the next two and a half weeks, Pratt went up against other bright talents before she was chosen the 2009 national 'Star.'
"The biggest thing is the winner gets to go record in L.A. I got to bring my husband with me, who recently had gotten back from Iraq," she explained. A CD featuring Pratt and winners from 2008 and 2010 was released last month.
Among her adventures that year, Pratt opened for singer Leigh Jones' Army Tour, performed at the release of a book by Scotty Smiley – a decorated soldier blinded in Northern Iraq – and dotted the country performing at military installations and Christian gatherings.
She lived a dream that was achieved with her tenacity and the support of dedicated UCCS faculty who believed in her.
"Suzanne MacAulay (chair and associate professor) – there are no word to describe her. She's amazing," Pratt said. "She helped me from the get-go get what I need."
She praised Glenn Whitehead, director and assistant professor of voice teaching, for his tutelage and touted former UCCS instructor Cynthia Cox for her growth as a singing artist. "I stayed with her after college because she was so good," she said. "When I recorded in L.A. she helped me learn my music.
"Even after I graduated, they took an interest in me. That's huge for the university to have teachers who keep up with their students . . . That speaks volumes to someone like me."
Pratt admits that, initially, UCCS was simply the best choice for her career interests while her husband was stationed at Fort Carson. Now, she realizes, it was the best choice period.
"I'm severely dyslexic and every teacher at UCCS was amazing. It's the best college I ever attended."
Pratt's husband is now stationed in Afghanistan; she is keeping busy at Fort Sill in Lawton, Okla., performing at church gatherings and military events throughout the Midwest. Her education and Operation Rising Star, part of the Army's Morale, Welfare and Recreation program, have helped jump-start her future.
"A big thank-you to the Army for providing opportunity for families — it's a huge deal. The Army provides for families," she said. "Looking back on my time at UCCS, I'm so glad I got that degree, it was a really well-rounded degree."
---
News from our campuses
CU-Boulder students engineer toys for the blind: The girls' giggles filled a University of Colorado Boulder engineering lab that temporarily was transformed into a play gym as students tested out modified balls, a hockey puck and a Twister game. It's the lab where CU engineering students are custom-designing toys for two elementary school girls -- both of whom are blind.
UCCS prof: New first responders are Twitter, Facebook: Jeannette Sutton, senior research scientist for the University of Colorado Colorado Springs' Trauma, Health and Hazards Center noted that after Sept. 11, 2001, people sought missing loved ones by posting paper fliers. With the tsunami in Asia two years later, people were posting pictures on Flickr.
CU Denver prof plants the seeds to better nutrition in elementary school: To reverse the un-healthy trend of obesity among children, UCD's Rachel Cleaves says a seed needs to be planted. Cleaves is working with Monroe Elementary to grow and harvest healthy foods.
Anschutz Medical Campus program teaches the business of science: It's hard for students at the University of Colorado Denver to get jobs in the bioscience industry without business knowledge. That's why Arlen Meyers has started a new program where students can combine bioscience and business to be more marketable.
---
Make a difference. Give today!

---