How to succeed at college and save $20,000
Dear Friends and Alumni,
President Bruce Benson
In Colorado and across the nation, states' investment in public higher education continues in a downward spiral, shifting an increasing share of the cost of a college education from the state to the student. Colorado ranks 48th nationally in state funding per resident student. The state paid two-thirds of the cost of education 30 years ago. Today, the student pays more than two-thirds. Yet there are ways for students to save $20,000 or more on the cost of their education.
Given the difficult economy, the trend of declining state investment won't reverse any time soon. So what can be done? Plenty. The university has a role and so do students.
At CU, we have an obligation to do all we can to control costs, and we are doing so. Over the past several years, we have made strategic cuts and streamlined and improved our business practices. We promoted legislation, which was passed by the Colorado General Assembly, that allows us to be more efficient in our operations. Our administrative overhead is 44 percent below that of our peers.
But there is also plenty students can do long before they reach campus to control costs and improve their chances of academic success. High schoolers in Colorado and elsewhere have many opportunities to get a leg up on college, educationally and economically. Advanced Placement courses and International Baccalaureate programs allow students to earn college credit, in some cases up to a year's worth.
The College Level Examination Program lets students test out of select subjects and earn credit. In Colorado's ASCENT program, school districts pay for students who have met high school graduation requirements to take a fifth year of entirely college courses.
CU offers more options. CU Succeed programs collaborate with high schools to deliver CU courses (which count for both high school and college credit) to juniors and seniors at minimal cost. Thousands of students take advantage of the program annually.
Ensuring students can succeed academically in college is also crucial to their bottom line. Students who graduate in four years can save up to $20,000 and, in many cases, more. A variety of pre-collegiate and pipeline programs offer information and resources that help prepare students to thrive academically and socially in college.
Community colleges also can be a great avenue toward a four-year degree. All of Colorado's public community colleges and four-year institutions have transfer agreements that facilitate degree completion in four years. CU has additional targeted programs with many community colleges. Last fall, we announced CU Guaranteed, which allows admission to any arts and sciences program on CU's campuses for Colorado community college students who have earned 30 hours of credit with a minimum 2.7 GPA.
Students who take advantage of one or more of these programs will not only save money, but also be better prepared academically. Statistics also show those who have earned college credit before attending greatly increase their chances of attending and graduating. Tuition is certainly a cost, but it is also an investment, one that will pay dividends throughout a person's life.
For feedback, contact officeofthepresident@cu.edu
Sincerely,


Bruce Benson
President
---
CU scientists secure more than $790 million in sponsored research funding in FY 2010-11
University of Colorado faculty researchers secured more than $790 million in sponsored research funding in fiscal year 2010-11 to advance scientific work in laboratories and in the field.
Preliminary numbers indicate the university's sponsored research funding for 2010-11 falls below the $884 million final tally in 2009-10. However, one-time federal stimulus dollars of an estimated $145 million allocated through the American Recovery and Reinvestment Act boosted the total received in the 2009-10 fiscal year.
Sponsored research funding is targeted for scientific projects and to help pay for research-related capital improvements, scientific equipment, travel and salaries for research and support staff and student assistantships.
Of the $790 million in sponsored research funding received in fiscal year 2010-11, more than $542 million was from federal sources and more than $248 million was from nonfederal sources.
Funding by campus:
University of Colorado Boulder, nearly $359 million, including:
A National Science Foundation six-year, $5.9 million grant to continue intensive studies of long-term ecological changes in Colorado's high mountains, both natural and human-caused, throughout decades and centuries.
A $28 million instrument developed to study changes in the sun's brightness and its impact on Earth's climate. It was one of two primary payloads on NASA's Glory mission launched from Vandenberg Air Force Base in California on Feb. 23.
University of Colorado Colorado Springs, more than $12 million, including:
A $499,645 grant from the U.S. Department of Justice to develop programs that protect students from victimization and build healthy relationships.
A $750,000 Fund for the Improvement of Postsecondary Education grant from the U.S. Department of Education to enable a group of southern Colorado colleges and universities to work cooperatively to increase the number of southern Colorado residents who attend college.
University of Colorado Denver and Anschutz Medical Campus, more than $419 million, including:
A U.S. Department of Education grant for $398,834 for the first year of three-year award, with the potential three-year award total of $1,198,674. The study will determine if differential outcomes for children with autism in the recently completed LEAP — USA efficacy trial continue to manifest themselves during a three-year follow-up period.
A 2.77 million grant from the Department of Health and Human Services Agency for Health Care Research and Quality that will allow researchers, health policy experts and clinicians to understand the impact of health care interventions on health outcomes for minority, underserved and socioeconomically disadvantage populations by supporting observational comparative effectiveness research.
---
CU Anschutz Medical Campus enjoying explosive growth
When CU's health sciences operations moved from 9th and Colorado in Denver to the site of the former Fitzsimons Army Medical Garrison in Aurora more than a decade ago, the notion was that it would take up to 50 years to build out the campus. As this time-lapse photography shows, we are about four decades ahead of that schedule.
The CU Anschutz Medical Campus has grown by leaps and bounds as it continues development as one of the pre-eminent medical destinations in the world. It provides patients the combined value of excellence in research and clinical activities. CU continues to add facilities to support our world-class clinical, research and education operations, as do our partners on the campus, the University of Colorado Hospital and Children's Hospital Colorado. All told, there is some $1.5 billion in construction on and around the campus, including expansions of the CU Hospital and Children's, as well as the new Veteran's Administration Hospital adjacent to campus.
Challenges come with such explosive growth and we are addressing them by collaborating with partners on and around the campus, including the previously mentioned hospitals, the city of Aurora, Fitzsimons Redevelopment Authority and the state.
We are partnering to update the campus master plan, with a particular focus on transportation and parking issues. Lilly Marks, vice president for health affairs and executive vice chancellor for Anschutz Medical Campus, is leading the effort. Transportation issues include those interior to the campus, as well as access to the campus. I-225 is being widened and a new exit at 17th Place is being added. The Regional Transportation District's FasTracks light rail project is scheduled to run along the campus's east and north perimeters as it joins I-225 with the I-70 line to Denver International Airport.
In addition to parking and traffic, a key part of our efforts interior to the campus will be signage, both wayfinding signs and gateway entrances.
If growth the past decade is any guide, we must be deliberate as we address today's challenges while keeping an eye on the future. We intend that our efforts will serve the campus well over the next several decades and beyond.
---
Buffs stampede into the Pac-12
The University of Colorado Boulder is celebrating its inaugural year in the Pac-12 conference and we intend to make our presence felt when the Buffs football team visits new conference rivals for the first time.
We will host a series of pre-game events for alumni and friends in Pac-12 cities this fall, and we hope you will join us. Please click here for event details and registration.
Additionally, we have created a new television commercial that introduces CU to the Pac-12 and the rest of the nation. We hope you enjoy it.
---
Creating Futures:
Donor generosity enables student's passion to take flight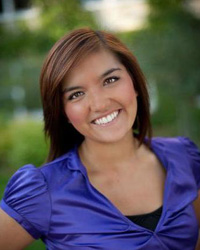 Meral Sarper
Although Meral Sarper spent a good deal of her childhood building robots and rovers here on Earth, her mind and spirit soared to the heavens. Sarper is a University of Colorado Colorado Springs junior majoring in mechanical engineering and boasting several minors, including aerospace engineering, sustainable development and leadership. And while her feet are squarely on the ground, her goals of reaching the stars and making the world a better place are raising her to unprecedented heights.
"I used to flirt with the concept of 'the impossible.'" Sarper explains. "But as I've grown older, I've begun to realize that it's futile to try to quantify what is possible. Every day, we see scientists push the barrier further and further. We live in a world of infinite possibilities."
Sarper is one example of University of Colorado students from all walks being positively affected by the $1.5 billion Creating Futures fundraising campaign. As CU makes progress toward the campaign goal for Creating Futures, the possibilities are endless. "I am blessed to receive scholarships such as the Kane Family Foundation scholarship, and am so happy to be part of the Chancellor's Leadership Class. Through these programs, I have found fulfilling service opportunities with essential nonprofits such as the Children's Literacy Center and Volunteers for Outdoor Colorado," Sarper says. "Donor gifts have started a ripple of 'paying it forward.'"
This summer, Sarper participated in the NASA Propulsion Academy program at Marshall Space Flight Center in Huntsville, Ala. The experience inspired Sarper and other students to become interested in space, letting them know the many opportunities NASA offers while building leadership skills and bonding with others who share her interests.
Those interests took off at UCCS. "In my time at UCCS, my own possibilities have expanded greatly. I've discovered I am passionate about people and, as an engineering major, becoming an astronaut is a goal, as it directly involves human collaboration."
In addition to being starry-eyed, Sarper has lofty goals for the Earth. As an avid steward of Mother Nature, she is looking to expand her education through graduate study in environmental engineering. "Another goal is to work or volunteer for Engineers Without Borders, or start a similar nonprofit offering tangible, everyday solutions to problems such as world hunger, water shortage and global conservation," she says. "My overarching goal is peace on the planet in my lifetime: I know it's a big one, but if I allow doubts to get in the way, I only cheat humanity out of a chance for much-awaited change."
Sarper is quick to say how UCCS has enabled her to reach for those goals.
"I'm so proud to be part of UCCS—a school at which there is diversity at all levels. Whether my classmate is a mother of two returning to school after years away, or an 18-year-old fresh from high school and exploring new options, I feel like every UCCS student is a unique part of my family," she says.
"The generosity of donors empowers me to give back through service. In this way, CU donors are not only giving to me—they're giving to their communities," Sarper says. "The scholarship reminds me that there are always people out there who believe in me, even if they have never met me. If I could meet them, I would say, 'Thank you... thank you... thank you.'"
Creating Futures>>
More on the CU Foundation>>
---
Chipotle founder strives for responsible food production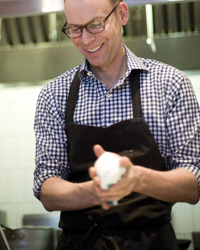 Steve Ells (Art'88)
Doing the right thing. We hear again and again how our CU graduates and alumni consistently strive to make the world a better place for this generation and generations to come. Chipotle Mexican Grill founder Steve Ells (Art'88) was troubled by the exploitation of animals and the abuse of the environment, so he set out to change that.
Ells recalls visiting a hog farm in Thornton, Iowa, with Paul Willis, co-founder of San Francisco-based Niman Ranch, which farms, processes and distributes natural meat from humanely raised animals. Ells saw free-range hogs foraging, grunting and socializing.
"I was thinking this was typical," says Ells. "Paul told me the scene was rare, that 99 percent of all pork is raised in factory farms." After researching factory farms, Ells discovered exploitation of animals and abuse of the environment.
"I didn't want my success or Chipotle's to be based on that," he says.
In 2001, eight years after it was founded, Chipotle began serving exclusively Niman Ranch pork, followed by commitments to provide natural and humanely raised beef, chicken and dairy products. The company also has launched environmentally friendly efforts and support of farm workers.
Full story>>>
More CU-Boulder Alumni News>>
---
News from our campuses
People of New York were not going to be terrorized by an attack like 9/11
Basically, Kathleen Tierney says, you can't scheme for a disaster. Certainly you can make plans — you should make plans. But the most important thing is to plan for what you can't plan for. "You must plan to improvise," she says. Tierney talked to The Denver Post while sitting in a sunny conference room at the University of Colorado's Natural Hazards Center, where she is the director. In a three-decade career of university scholarship, she has studied all kinds of disasters — hurricanes, earthquakes, riots, floods — all over the globe. And Tierney often arrives on site barely after the rescuers do, so that she can see how the communities respond in their time of crisis.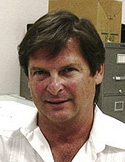 Frederick Coolidge
University of Colorado Colorado Springs prof finds personalities might not factor in marriage success
Men and women in relationships need not be similar in personality to have a successful long-lasting marriage, a new study suggests. The study, which included couples who had been married for at least 40 years, found that neither personality similarities nor differences appeared to affect how happy the couples were. That also runs counter to what we might intuitively expect, said study researcher Frederick Coolidge, a psychologist at the University of Colorado Colorado Springs.
Full story>>
More UCCS news>>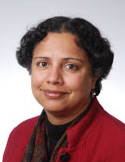 Anu Ramaswami
While many college students worry, those in two fields have hope
Every student on the Auraria Campus will eventually be looking for a job. But there are two fields at the University of Colorado Denver that are growing even during a recession. "If you look around this room, you'll notice it is quite full. More and more students are enrolling in engineering classes, particularly in the field of sustainability,"Anu Ramaswami said. Ramaswami is a professor of civil engineering with CU Denver's Center for Sustainable Infrastructure Systems.
Full article>>
More CU Denver news>>
SOM researchers find the origins of beer
The University of Colorado School of Medicine researchers searched for something deeper than the foam in beer and found yeast holds keys to human evolution because of similarities in the organisms' DNA. And now those CU researchers have solved an ancient, beer-soaked mystery — how 15th-century Bavarian monks stumbled upon a yeast from halfway around the world that allowed them to brew lager beer in the cold.
Full story>>
More CU Denver news>>
---
Make a difference. Give today!

---