Reputation drives results
Dear Friends and Alumni,
President Bruce Benson
We were pleased to announce in July that the University of Colorado had recorded its best fundraising year ever.
Private contributions to the university totaled $213.2 million, up from our previous best of $205.9 million. We greatly appreciate the support of the more than 47,000 donors and private foundations that made the record possible. We are making great progress toward the $1.5 billion goal of our multi-year Creating Futures comprehensive fundraising campaign.
I find that the news of our success leads people to ask me a couple of common questions. First, how is CU doing so well in private support in such bad economic times? And second, can the university use private funds to keep tuition costs in check?
The answer to the first question is a variation of the real estate adage, "location, location, location." For CU, it is "reputation, reputation, reputation." We have worked extremely hard over the past several years to protect and promote our reputation, which took a hit in the middle part of the decade.
Problems with reputation can obscure the great work that happens every day at the university: faculty who are nationally renowned for teaching and research, students who excel in academics and community service, a university that advances the economic, social and cultural health of Colorado and beyond. A strong reputation makes donors more likely to invest in the university.
In recent years, we have been able to re-focus the spotlight on our achievements and contributions, and our donors have responded. They know we not only have great teaching and research, but also have streamlined our operations, cut bureaucracy and instituted efficiencies. They also have great confidence in the leadership on our campuses and in particular, at the CU Foundation, our fundraising arm. Wayne Hutchens (more on him below) has built and led an exceptional team, and our donors know their contributions are in good hands.
As to the second question, it's understandable that people would think that fundraising success should translate to lower tuition. Yet private contributions do not affect tuition rates. More than 98 percent of contributions are designated by donors for specific programs, research, people or facilities. While increasing scholarships is one of the primary goals of Creating Futures, and those scholarships certainly benefit students, state funding is the key driver in tuition rates. Colorado is sorely lacking in that department. It ranks 48th nationally in state funding per resident student, and there is a good chance it will continue its decline.
However, CU does its part to keep costs and tuition in check. We have cut budgets, improved business practices, trimmed bureaucracy and secured legislation the past three sessions of the Colorado legislature to allow us to operate more efficiently and effectively.
We will continue these efforts and stay focused on our reputation. We trust our donors will also continue to invest in a university that is well-run and advancing academic achievement, research excellence and contributions to Colorado and beyond. Thank you to all of you who have helped create futures.
For feedback, contact officeofthepresident@cu.edu
Sincerely,


Bruce Benson
President
---
Creating Futures:
Burridge donation for endowed chair joins record number of private gifts by CU supporters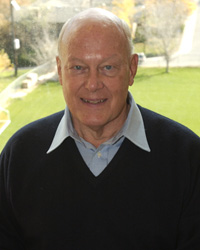 Richard M. Burridge Sr.
CU-Boulder alumnus Richard "Dick" M. Burridge Sr. ('51 finance) provided a $2.5 million gift that, combined with other commitments, will establish the Burridge Chair in Finance, the first endowed chair established within the Leeds School of Business. The gift is one more example of the outstanding generosity shown by supporters of CU, making it a record-breaking year for private donations.
Through this gift, Burridge, whose philanthropic efforts in 1997 helped establish the Burridge Center for Securities Analysis and Valuation at Leeds, is extending his ongoing support for the school and the center through volunteering and philanthropy. The gift enhances the efforts of new dean David Ikenberry to expand the depth and quality of the school's finance faculty. "It will also help the dean realize the goal of being one of the top business schools in the country," Burridge said.
The center creates and shares knowledge relating to financial markets, principally the U.S. financial markets. The center also encourages professional investment managers, finance scholars, policymakers and the investing public to exchange ideas, and ultimately helps stimulate relevant financial research to help both markets and investors.
The gift joins the outpouring of generosity as the university vies to raise $1.5 billion in its Creating Futures campaign, which announced its public phase in April.
Other CU programs supported by donors in 2010-11 include:
stem cell research that helps burned skin heal and regenerate
integrated mental health counseling for Pikes Peak region seniors at little or no cost
a Jewish Studies program that bridges past and present and promotes mutual understanding
a scholarship program that charts a course from high school through medical school, preparing diverse high achievers for practice in Colorado communities
These are a few of the 1,800-plus areas at the University of Colorado this past year to receive more than $213.2 million in private support.
Creating Futures>>
More on the CU Foundation>>
---
Mayors Vidal, Hancock a testament to the importance of a CU education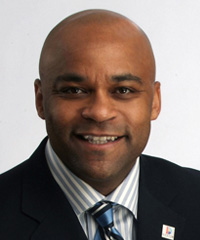 Michael Hancock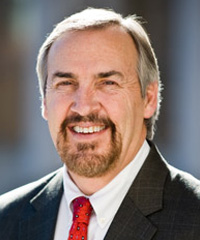 Guillermo Vidal
The significance of a University of Colorado education to the individual and the state was never more evident than when two CU Denver alumni stood together on stage July 18 at the inauguration of Denver's 45th mayor, Michael Hancock. Hancock, who earned a master's degree in public administration in 1995, was sworn in by Denver's 44th mayor, Guillermo "Bill" Vidal, who received his civil engineering degree in 1972.
These two men are not only a testament to the importance of education, but also examples of strength, tenacity and the drive to overcome adversity.
Vidal, the first foreign-born person to be Denver's mayor, was sent with his two brothers from his hometown of Camagüey, Cuba, to the U.S. via "Operation Peter Pan," a program that placed more than 14,000 children in foster homes or orphanages. Once in the United States, the boys were sent to Sacred Heart Orphanage in Pueblo. The family was reunited four years later.
Hancock, one of 10 children, recalls cold, hungry nights living with his family in public housing. He faced tragedy when his brother died in 1996 of AIDS and, six years later, when a sister was murdered by an estranged boyfriend.
Rather than be hindered by these difficult life experiences, Vidal and Hancock channeled the adversity into their life's work: creating positive change in Colorado.
As public works manager and deputy mayor for the City and County of Denver, Vidal completed the first statewide multi-modal transportation plan in Colorado's history, originating the Strategic Transportation Investment Program and initiating the T-REX multi-modal transportation project on Interstate 25. He headed the Denver Regional Council of Governments (DRCOG) where he was a catalyst in the adoption of the 20 Year Regional Transportation and Clean Water Plans. Vidal led the region's local governments to form a historic coalition to guide development known as the Mile High Compact. He took the reins as mayor in January when John Hickenlooper became Colorado governor.
Hancock was elected to City Council, District 11, in 2003. His council peers unanimously chose him to serve two terms as council president from 2006-2008. He presided over the creation of the Denver Pre-School Initiative, strategies to fight foreclosures, and the implementation of the largest infrastructure improvement effort in city history. Hancock is widely recognized as one of the most accessible, constituent-oriented elected officials anywhere. He is a leader on neighborhood issues, city finances, economic development and children's issues.
---
Across the System
A sunset ride for Wayne Hutchens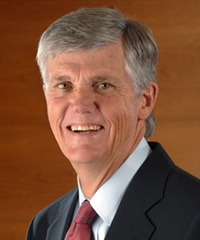 Wayne Hutchens
There's a lot to be said for going out on top, and that's just what Wayne Hutchens intends to do. The president and CEO of the CU Foundation recently announced he will retire in 2012. As noted above, he has been a key to CU's fundraising success in recent years, including this year's record result. An alumnus of CU-Boulder (Business-67), he has long had a deep affinity for the university. His passion for CU, professionalism and integrity are firmly ingrained in the CU Foundation.
He has built an organization that inspires confidence in our donors, alumni and friends, as evidenced by the fact that Wayne has presided over the five most successful fundraising years in CU history. While we will certainly miss his leadership, we will continue to benefit from the great organization he has built and the high bar he has set. The ultimate beneficiaries of his work are our students and faculty, whose programs, scholarships, research projects and facilities have been bolstered by private donations.
Wayne will continue to lead the CU Foundation through an executive transition that will take place the next several months. So while he won't be leaving just yet, he will remain on top.
---
Regents' business panel shares insight about enhancing CU's efforts
The CU Board of Regents engaged a panel of business, nonprofit and economic development leaders at its summer retreat in July to get a sense of what CU is doing well to serve the state's workforce needs and how it can do better.
The panel comprised Tom Clark, executive vice president of the Metro Denver Chamber of Commerce; Renny Fagan, president and CEO of the Colorado Nonprofit Association; Richard Lewis, president and CEO of RTL Networks Inc.; and Diane Schwenke, president and CEO of the Grand Junction Area Chamber of Commerce.
Among other suggestions, panel members said CU can expand the use of internships, make better connections with businesses, encourage graduates to consider the nonprofit sector as a career option, and play a key role in Colorado's emerging economic clusters. The university should also enhance efforts to educate Coloradans about our contributions to the state's economic, social and cultural health.
The exercise gave the regents and university leadership good perspective on what it does well and what it must do better. In the latter category, panel members suggested increasing the use of technology to deliver courses and programs, offering a wider variety of certificate and non-degree programs, and making it easier for non-traditional students to return to school. They also said CU should boost the number of public-private partnerships and share its faculty expertise more widely.
They all agreed that CU is an integral part of the fabric of Colorado and offered to partner with us to promote the value of the university and higher education. We will take them up on the offer, and we will also benefit from their insights.
---
News from our campuses
CU-Boulder group wins Heartland Emmy for Pluto video: A group of University of Colorado Boulder journalism students and graduates won a Heartland Emmy award for a video they created about Pluto being bumped down to "dwarf planet" status.
UCCS aging center gift will benefit community: Thanks to a $731,872 grant renewal from The Colorado Health Foundation, the CU Aging Center will expand and strengthen successful partnerships with Peak Vista and other Pikes Peak region senior providers.
Maintaining positive connections in military marriages during combat: Beth Allen, assistant professor of psychology, shares her research about military marriages and techniques for preserving connections and relationship health during wartime.
Doc dedicates his life to making lives of those who have Down syndrome better: When he found out his newborn daughter had Down syndrome, Dr. Alberto Costa cried. But by morning, he found himself doing what any father of a newborn might: hovering by the crib, holding his daughter's hand and marveling at her beauty.
---
Make a difference. Give today!

---