Teaching an old president new tricks
Dear Friends and Alumni,
President Bruce Benson
I celebrated a birthday on July 4, and despite the contention of the headline above and some family and friends, I don't feel old. In fact, serving as president of the University of Colorado is an energizing experience.
I am continually surprised by the wonderful things happening at our university, whether in our classrooms, research laboratories, clinical settings, or as part of the campus environment. We change lives as we advance the economy, health and culture of Colorado and beyond. Our alumni contribute to communities around the world. There are thousands of stories of CU making a difference, and the breadth and depth of those I see and hear almost daily is enough to keep anyone interested, engaged and energized.
Part of my job as president is to convey those stories to CU alumni and friends, as well as to articulate the challenges we face. Doing so takes on many forms, from speaking engagements to newspaper op-ed pieces to electronic newsletters such as this. We are in the midst of a concerted effort to expand the number of email contacts in our main database. We now send this newsletter to some 265,000 alumni and friends, up from 80,000 when we first began. We have to use every arrow in the communication quiver to demonstrate our value, educate people on our challenges and call upon our alumni and friends when necessary.
The latest arrow is social media. While it may seem incongruous to have someone of my generation taking the plunge into Facebook, Twitter and others, it's critical for CU. Our key constituents range in age from teens to centenarians, so it is incumbent upon us to use every means possible to reach them, from personal interaction to print to social media.
Our campuses have many pockets of social media use, and my office is expanding it as well. The @CUSystem Twitter account has been active for quite some time, but we have expanded our reach across more mediums. We hope you'll follow and 'fan' our new and established social media sites:
| | |
| --- | --- |
| | CUSystem: We share info on the research, features and events that tell the university's story, post interesting and pertinent facts about CU and help spread the word about opportunities. |
| | CU_Bruce_Benson: This account shares presidential, campus and related information, highlights and activities, and various issues affecting higher education. |
| | CU Office of the President: Featuring stories, events, photos and video; it is a resource for people concerning important higher education topics. |
| | CUSystem: Recently launched, it will feature videos relating to CU as a whole. |
We will continue to monitor trends, research and expand our Internet presence using platforms available to us. Social media has further opened doors to communication. We have no doubt these mediums will evolve and change, and so will we.
So to the skeptics who say you can't teach an old president new tricks, I say friend me on Facebook and follow me on Twitter, and perhaps you'll learn a few things about what makes CU so special.
For feedback, e-mail officeofthepresident@cu.edu or connect via social media.
Sincerely,
Bruce D. Benson
President
Sincerely,


Bruce Benson
President
---
UCCS recognized for use of technology to expand education

Students in rural areas benefit from UCCS nursing classes.
The publisher of Computerworld magazine recognized the University of Colorado Colorado Springs in June for the campus's visionary application of information technology promoting positive social, economic and educational change.
Jerry Wilson, executive director, Information Technology, accepted an award at a ceremony in Washington, D.C., where UCCS was recognized for its use of technology to expand nursing education to southern Colorado. For the fall 2010 semester, the UCCS Beth-El College of Nursing and Health Sciences began offering nursing education courses using CISCO Telepresence to students at Otero Junior College and Lamar Community College. The technology was also used by the College of Engineering and Applied Science to teach robotics courses.
UCCS is believed to be the first university to use CISCO Telepresence to offer for-credit college courses.
---
CU's proud history with the space shuttle program
Partnership with NASA remains strong
CU has been an integral part of the U.S. space program, from its beginnings in the 1950s through the pioneering Mercury program (with CU alumnus Scott Carpenter among the original astronaut corps) through today's deep-space satellite programs, in which our faculty and students contribute to and control missions. We are the top public university in the country for NASA funding and we have had 19 CU alumni fly in space. CU is a major contributor to the space economy in Colorado, which ranks in the top five nationally. We have also been proud partners in many of NASA's 135 space shuttle missions. NASA's launch of the final space shuttle mission on Friday, which is carrying five science payloads CU is involved with, gives us a chance to look back at CU's proud and sometimes tragic history with the program.
---
Creating Futures Profiles: Benefactors making a difference in CU's fundraising campaign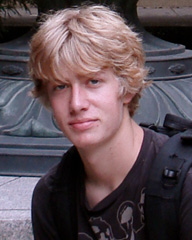 Zane Sternberg will serve his rural community.
Zane Sternberg is just the type of student we had in mind when we launched Creating Futures, our $1.5 billion fundraising campaign across CU's four campuses. The incoming sophomore hails from a small ranch outside rural La Veta, Colo., where only 15 percent of county residents achieve a bachelor's degree.
But thanks to the BA-BS/MD program — an eight-year program that begins with CU Denver undergraduate studies and continues with physician training at the CU School of Medicine — Sternberg is on a fast track to an advanced medical career serving Colorado communities in need.
This spring, a three-year $1.88 million Colorado Health Foundation grant gave the BA/BS-MD program a critical boost. The grant will inspire and enable exceptional Colorado high school students from rural and economically challenged backgrounds to pursue the rigorous BA/BS-MD program.
---
University of Colorado Hospital explores alliance
Health care changes and challenges lead to talks with Poudre Valley Health System
The University of Colorado Hospital on the Anschutz Medical Campus is considering an alliance with Poudre Valley Health System, a Colorado born and bred system of hospitals and clinics based in Fort Collins. On June 30, the parties announced a letter of intent to explore the possibilities.
While UCH became an authority in 1991 (allowing it to operate with greater independence from state rules), it remains critical to CU's mission in health education, research and care.
Given the rapid changes in health care and the pressures on funding our academic health care programs, it is prudent for us to consider options that will ensure the long-term fiscal and operational health. Health care is increasingly complex and changing rapidly in our state and nation. While many of those changes remain undefined, health care organizations such as ours will clearly be asked to do more with less. The affiliation could lead to many benefits, including:
Bringing innovation and leading-edge care to patients throughout the state and region.
Building on our collective strengths in quickly advancing areas such as oncology, cardiovascular surgery, neurosciences, biosciences and orthopedics.
Expanding top-quality training sites for the next generation of health-care professionals.
Increasing competition among the state's health care systems.
As discussions about a potential affiliation proceed, they will consider PVHS's role as a community-based organization, as well as CU's mission as an academic health center, the key role of the University of Colorado Hospital in fulfilling that mission, and our obligations to the people of Colorado and the health of our state.
There are many details to be worked out and we expect discussions to continue into the fall before any decisions about proceeding are reached.
---
Opening Day in the Pac-12
The CU Buffaloes officially became members of the Pac-12 Conference July 1. More than a year after we announced the affiliation, the conference welcomed CU-Boulder and the University of Utah as its newest members. Colorado Gov. John Hickenlooper decreed July 1 Pac-12 Day in Colorado and issued a proclamation to celebrate the move.
As I have noted in this newsletter before, the arrangement not only will be a boon for the Buffaloes' intercollegiate athletics program, but also will be significant in other ways. It allows us to build on research partnerships we have with some of the finest universities in the country (CU is working on research projects with all Pac-12 schools) and to foster new collaborations. It allows us to connect with a greater number of alumni (some 46,000 CU alumni live in the Pac-12 footprint as opposed to 11,000 in the Big 12). California is our largest source of nonresident students. Additionally, the new affiliation will help us boost enrollment of international students, which will enhance our campuses and bring revenue.
---
Pre-collegiate programs enable diverse students to thrive
Board of Regents hears testimony from successful graduates
Students from the University of Colorado Boulder and University of Colorado Colorado Springs shared their personal stories at the June Board of Regents meeting at UCCS to punctuate the importance of CU programs that enable underserved populations to achieve an education.
UCCS graduate Jesse Perez, who earned his bachelor's degree in communication, geography and environmental sciences, stressed that the Pre-Collegiate Development Program and The Partnership in Innovative Preparation for Educators and Students (PIPES) programs were paramount to his success. "I was on this destructive path and these programs are telling me I have something to go on. I'm like, 'Really, me?' They offered me support, the opportunity to take college courses in high school; they offered scholarships at high-school age," he said.
Maria Mendez, who earned her chemical engineering degree at CU-Boulder, is the youngest of four children and explained that her parents had only received an elementary school education. The CU programs enabled her to meet others with similar backgrounds, she said. After being recruited by both the Colorado School of Mines and Cornell, among others, Mendez decided to attend CU. "The programs not only motivated me to attend CU but gave me the confidence for success," she said. "Being familiar with CU through the program, I wanted to be a CU Buff."
Vicki Leal, University of Colorado director of diversity and P-20 initiatives, noted the university has made great strides in fostering diversity, but there's still more to be done. Leal and campus diversity officers provided the 2010-2011 diversity report to the Board of Regents during its meeting Tuesday, June 21, at the University of Colorado Colorado Springs.
Full story >>
Read the complete 2010-2011 diversity report.
---
Record number of students at CU-Boulder receive Fulbrights
A record 10 University of Colorado Boulder students have received Fulbright grants to pursue teaching, research and graduate studies abroad during the 2011-12 academic year. The 2011 CU-Boulder student Fulbright recipients and their destination countries are: Llana Blum, Tajikistan; Lauren Collins, Macau; Catherine Compton, Germany; Ryan Drickey, Sweden; Rachel Fleming, India; Grant Garstka, Bulgaria; Guy Hepp, Mexico; Elaine Hild, Germany; Joseph Knelman, Norway; and Nicholas Williams, Indonesia.
They will study an array of subjects: the work of composer Fanny Mendelssohn Hensel in Germany; plant-soil-microbe interactions in subarctic crops in Norway; the endangered Kula language in Indonesia; and ancient social interactions through archaeological excavations at the La Consentida site in Mexico.
Full story>>
More CU-Boulder news>>
---
Alumna helps launch a new urban education program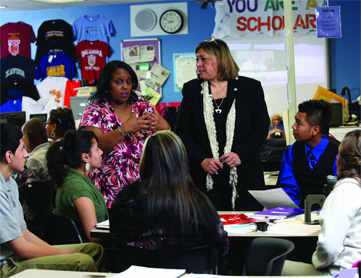 Nina Conley, center left, and Margarita Bianco, center right, at Montbello High School
The lack of diverse students in the classroom troubled Margarita Bianco, Ph.D., an assistant professor in the University of Colorado Denver's School of Education and Human Development. She never had teachers who looked like her throughout her public school education and when she started teaching, she met few colleagues of color. She realized she needed to do something about it. In 2010, Bianco teamed up with UCD alumna and Montbello High School teacher Nina Conley (M.A. 2010) to launch "Pathways2Teaching," an ambitious pilot program aimed at addressing an urgent need to boost the number of teachers of color in Colorado. The program centers around a new elective course, Introduction to Urban Education, that offers juniors and seniors a chance to learn about the teaching profession and explore the tough subject of educational justice while gaining three college credits.
Full story>>
More alumni news>>
---
News from our campuses
UNIVERSITY OF COLORADO BOULDER
Prof finds women roamed; men stayed at home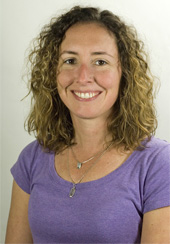 Sandi Copeland
A team led by CU-Boulder adjunct professor and lead study author
Sandi Copeland
studied teeth from a group of extinct Australopithecus africanus and Paranthropus robustus, individuals from two adjacent cave systems in South Africa, and found more than half of the female teeth were from outside the local area. In contrast, only about 10 percent of the male hominid teeth were from elsewhere, suggesting they likely grew up and died in the same area. The new study results were somewhat surprising, said Copeland. "We assumed more of the hominids would be from non local areas, since it is generally thought the evolution of bipedalism [walking or standing on two feet] was due in part to allow individuals to range longer distances," she said.
Full story>>
More CU-Boulder news>>
UNIVERSITY OF COLORADO COLORADO SPRINGS
Elite triathlon academy launched at UCCS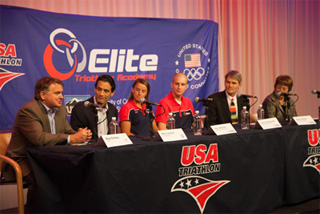 The Elite Triathlon Academy partners with UCCS.
The Elite Triathlon Academy will debut this fall at the University of Colorado Colorado Springs with national-level support from USA Triathlon and the United States Olympic Committee. The academy is a landmark program that will provide the United States' best up-and-coming triathletes the opportunity to receive a top-notch college education while benefiting from a full-time coach and the nation's best training resources. The goal of the program — directed by Keith Dickson, founder of the Illinois-based Multisport Madness Triathlon Team — is to develop potential Olympic triathletes into medal contenders on the sport's biggest stage. Five of the nation's best emerging multisport athletes, including 2010 Youth Olympic Games medalists Kevin McDowell and Kelly Whitley, make up the first class, which will enroll at UCCS in August.
UNIVERSITY OF COLORADO DENVER
Bard Center competition: Business School grad wins with indestructible guitar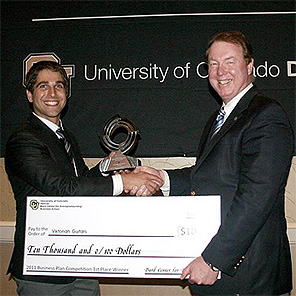 Josh Jacobson, left, CEO of Viktorian Guitars, receives his award from Cliff Young.
The makers of a high-tech, carbon fiber electric guitar walked away with first place last month in the 10th annual Business Plan Competition sponsored by the University of Colorado Denver Business School's
Bard Center for Entrepreneurship
. Josh Jacobson, CEO of Viktorian Guitars, won $10,000 for the fledgling company's first-place showing, beating out five other finalists with his presentation touting the qualities of the sleek, hand-built guitars. "I'm elated to bring this new technology to Denver," Jacobson said. "I graduated in 2009 with an MBA from CU Denver but this is really the beginning of my career."
Full story>>
More CU Denver news>>
UNIVERSITY OF COLORADO ANSCHUTZ MEDICAL CAMPUS
Root of emotional and physical health examined in community gardens
A CU professor wants people to realize how good it feels to get their hands in the dirt, to run through the sprinkler or smell pollen from a sweet-smelling flower. Most children who grow up in cities never have this experience. But the latest research aims to change that. Research by Jill Litt, Ph.D., associate professor at the Colorado School of Public Health and University of Colorado Boulder, has shown that community gardens are affordable and accessible to people across the lifespan — regardless of age, race, socioeconomic status or educational background. She found that community gardeners cultivate relationships with their neighbors, are more involved in civic activities, stay longer in their neighborhoods, eat better and view their health more positively.
Full story>>
More Anschutz Medical Campus news>>
---
Make a difference. Give today!

---