CU introduces $1.5 billion Creating Futures campaign
Dear Friends and Alumni,
President Bruce Benson
I often stress the value the University of Colorado provides. We offer the promise of educational opportunity, help drive our state's economy, create jobs and engage in research that improves lives and addresses societal challenges. To bolster these critical endeavors, we are undertaking a major effort to allow us to enhance our contributions to Colorado and beyond.
Today we announced the public phase of Creating Futures, the most ambitious fundraising campaign in the University of Colorado's 135-year history. Our goal is to raise $1.5 billion in private funds to support scholarships, faculty and program enhancements, privately funded research and facilities.
We began the campaign on July 1, 2006. Multi-year efforts such as ours typically have a "silent phase" to build momentum toward the goal and engage our key constituents. We have raised more than $900 million to date and those contributions have already been making a significant difference in sustaining excellence and making an impact on our campuses. We appreciate the contributions of those who have donated thus far. In the public phase that begins today, we will sharpen our focus to further add value to CU.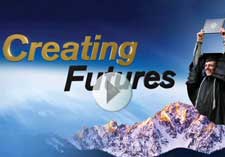 Watch a Creating Futures video
Our goal is lofty yet achievable. My wife Marcy and I will chair the campaign (our second for CU) because we strongly believe in the power of education and the promise of our university. CU is a great institution with exceptional students, dedicated faculty and staff, engaged donors and accomplished alumni. We are confident of success given the much-appreciated help from volunteer leadership on our campuses and the work of professional fundraising staff.
We have worked hard in recent years to strengthen our reputation. Our donors can be confident that their investments are made in a university that is well run and of which they can be proud. Leadership on our campuses and at the CU Foundation is first-rate.

View the interactive brochure
The $1.5 billion goal is notable, particularly in light of the financial challenges facing the university and country. It is important to note that contributions will add value to a variety of endeavors on our campuses. Yet since 98 percent of gifts are earmarked by donors for specific purposes, they will not replace the vital need for operational funds pinched by declining state funding.
What these contributions will do is to continue to strengthen a foundation for what we call our pillars of excellence and impact. They encompass all we do at CU: learning and teaching, discovery and innovation, community and culture, and health and wellness.
With your help, we will push our university to even greater heights and build on our critical work to advance the economy, health and culture of Colorado and beyond. I invite you to read on to learn more about the campaign. And Marcy and I extend a personal invitation for you to join us in Creating Futures.
Sincerely,



Bruce Benson

President
For feedback, contact: OfficeofthePresident@cu.edu.
You can learn more about the campaign and follow its progress at www.cufund.org/campaign.
---
About the Creating Futures campaign
Creating Futures is a comprehensive system-wide fundraising effort to enhance the university.
More than $900 million has been raised toward the $1.5 billion goal.
Priorities include scholarships, privately funded research, academic enhancements and capital projects.
This is CU's fourth comprehensive campaign in its history and the most ambitious.
Campaign priorities support CU's pillars of excellence and impact: learning and teaching, discovery and innovation, community and culture, and health and wellness.
Creating Futures will enhance CU's ability to serve Colorado. CU is an economic catalyst and contributes $6.3 billion annually to the state's economy.
CU needs private donations. State higher education funding has declined from nearly 30 percent of CU's budget 30 years ago to less than 6 percent of its budget this year.
Learn more about the
Creating Futures campaign
.
---
Examples of initiatives of excellence and impact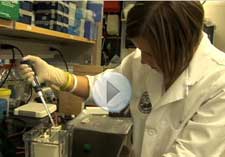 Cancer Prevention
Anschutz Medical Campus: Cancer Prevention
It's estimated that 30,000 to 40,000 breast cancer cases annually are complicated by recent pregnancy, resulting in a very aggressive form of the disease that impinges upon the lives of many young families. Pepper Schedin's groundbreaking research at the Anschutz Medical Campus is targeting ways to halt pregnancy-associated breast cancer and help unlock the mysteries of the disease.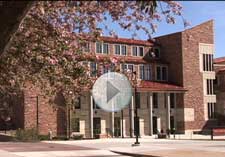 New Visual Arts Complex
Boulder Campus: New Visual Arts Complex
The new Visual Arts Complex is itself a stunning piece of art on the Boulder campus. It houses inspiring classroom spaces as well as the CU Art Museum and the Department of Art and Art History, enriching student life and enhancing the cultural landscape of the campus, city of Boulder and the region.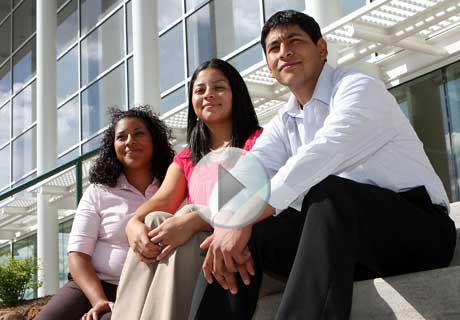 Scholarships Pay it Forward
Colorado Springs Campus: Scholarships Pay it Forward
Rocio, Rosaura and Roberto Padilla overcame long odds before reaching the UCCS campus. For many who grow up in rural Colorado, the dream of a college education is out of reach. But parents Manuela and Felipe Padilla, who had not attended college, knew higher education was the key to a better life for their children. Thanks to scholarship aid from generous donors, all three Padilla children are on paths to success.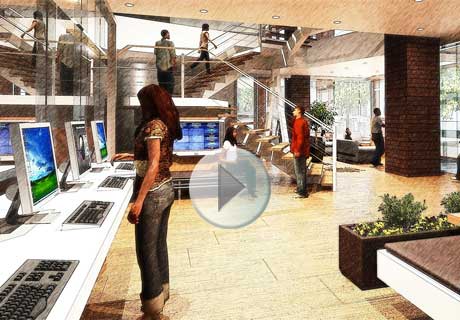 Support a Great Enterprise
Denver Campus: Support a Great Enterprise
The new Business School building for CU Denver in the heart of downtown will become a hub for the Colorado business community and a center of business expertise. It's where innovative minds will be shaped for business leadership roles in our state and nation, ultimately helping fuel a strong economy.
---
Creating Futures at CU-Boulder
Celebrate the Boulder campus kickoff of CU's Creating Futures with a festive campus gathering on Norlin Quadrangle on April 28. It begins with performances by theater, dance and music students at 3:30 p.m. and continues through 8 p.m. with a reception and open houses. Join us for part or all of the evening. Beginning at 5 p.m., enjoy a complimentary reception on Norlin Quad and hear from President Bruce Benson, Chancellor Phil DiStefano and men's basketball coach Tad Boyle. Don't miss special appearances by Ralphie and Chip! Afterward, tour some of CU's state-of-the-art buildings such as the Visual Arts Complex and Center for Community. Register here.
---
Creating Futures volunteer leadership team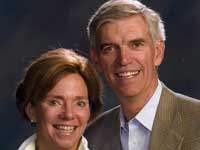 Nancy and Spike Eklund
Anschutz Medical Campus: Nancy and Spike Eklund have supported programs including the CU-Boulder Law School and the Center for Women's Health Research at the Anschutz Medical Campus. Spike graduated from the law school in 1971 after earning a bachelor's degree at CU in 1967. Nancy earned CU degrees in 1985 and 1987 in child health and Graduate School. Spike is vice chair of the CU Foundation Board of Directors.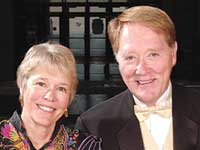 Jeannie and Jack Thompson
CU-Boulder: Jeannie and Jack Thompson met at the University of Colorado Boulder. They earned undergraduate degrees in 1964, with Jack earning a master's at CU in 1970. They have supported campus initiatives including the Jennie Smoly Caruthers Biotechnology Building, the Center of the American West and a Jazz Studies endowment. Jeannie serves on the CU Foundation Board of Directors, which she chaired from 2008-2010, and the advisory council for the Graduate School.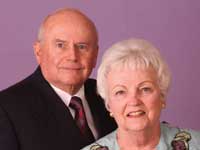 Ed and Mary Osborne
UCCS: Ed and Mary Osborne are among the most generous benefactors in the history of the University of Colorado Colorado Springs. They are volunteers and supporters of diverse programs including the Theatreworks Gift Fund, the CU Aging Center and the mechanical and aerospace program Ed helped start. Ed was honored with the University Medal from UCCS in 2001 and is a CU Foundation trustee.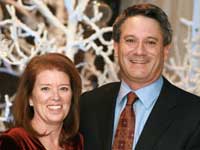 Laura and Dave Baker
CU Denver: Laura and Dave Baker have supported the new building for the University of Colorado Denver Business School, CU Buffs football and a scholarship endowment. Dave is chair of the advisory board for the CU Denver Business School, from which he is a 1982 alumnus, and is a CU Foundation trustee. Laura is a 1994 alumna.
---
Make a difference. Give today!

---