February 2011
Dear Friends and Alumni,
President Bruce D. Benson
Many of you have been receiving my e-newsletter for some time and others are new to it. We have substantially expanded the list of alumni and friends with whom we are sharing the good news and challenges at the University of Colorado. It's important for us to engage you in our efforts to advance the economy, health and culture of Colorado and the nation.
The university and its four campuses are a collection of diverse people, programs and places. That scope can make telling its stories a challenge. But in doing so, we are focusing our efforts on four pillars of excellence and impact that encompass all we do: learning and teaching, discovery and innovation, health and wellness, and community and culture.
It is equally important to focus our visual images. Over the course of many years, CU's campuses, colleges and departments, and administrative units have independently projected different images. The result is a problem: several hundred different and sometimes-competing messages and images. In a world of information overload and visual clutter, that is inefficient and ineffective.
To remedy the situation, we undertook a branding project with the help of Landor, one of the most highly regarded firms in the field. The project was paid for with initiative funds, interest earned on CU investments. No state funding, tuition or donor money was diverted. Some misinterpret the project as simply updating a logo. But branding is much more than logos. It is the emotional feeling our constituents have about the university resulting from their collective perceptions and interactions with us. We shape that feeling in great measure by how we present ourselves.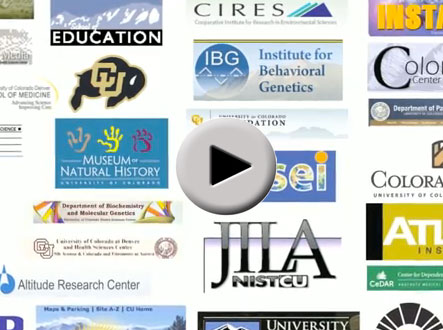 Who is the University of Colorado?
The project, which began more than two years ago, was extensive and involved a wide swath of our constituents. It started with quantitative research, surveys sent to some 40,000 alumni, donors, business and community leaders, and faculty, staff and students. About 12,000 were returned. We also did in-depth personal interviews with many of our key constituents, from our top donors to legislators to faculty, staff and student leaders. We did a peer analysis of six universities and systems similar to CU. We undertook a situational analysis of our own campuses. The research drove several rounds of message and visual image development.
The result is a roadmap for presenting CU to its key constituents in consistent, coordinated ways. It will also allow us to be efficient and effective in our use of resources. Each of the hundreds of images now in use has a direct cost in terms of design for print and electronic publications, photography and human resources, as well as an indirect cost of presenting CU in fragmented, muddled ways.
Effective branding will also be critical as we embark on a comprehensive fundraising campaign, which will be announced this spring.
In many ways, the project is a great investment in the university's future, one that will have a lasting impact. Its outcomes will include greater efficiency and effectiveness in our messages and visual images, consistency and coordination in our efforts, successful fundraising, better engagement with our key constituents, and enhanced ability to convey the collective excellence and impact of the University of Colorado. And for an institution with a great story to tell about how it changes lives and improves our world, those outcomes are critical.
You can provide feedback to officeofthepresident@cu.edu.
Sincerely,


Bruce D. Benson
President
---
Thomas Jefferson Award Winners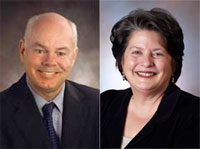 David Braddock, Ph.D. (left) and Terry Schwartz, Ph.D. (right)
Congratulations to David Braddock, Ph.D., and Terry Schwartz, Ph.D., the 2011 recipients of the University of Colorado's Thomas Jefferson award, one of the university's highest honors. This annual award recognizes those who advance the humanistic ideals of Jefferson, have a strong concern for the advancement of higher education, demonstrate a deep sense of civic responsibility and show a commitment to the rights and welfare of the individual.
---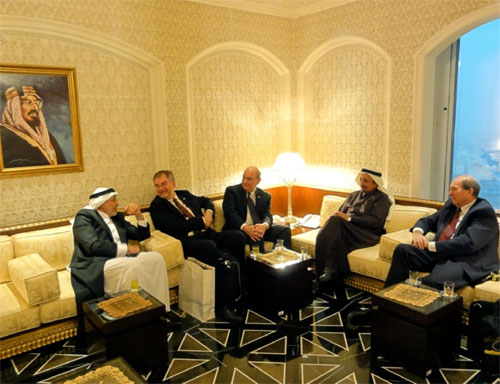 CU Boulder Chancellor Phil Distefano and CU Denver Chancellor Wartgow with CU alum Mr. Mohammed Al-Mady and others in Riyadh, Kingdom of Saudi Arabia
University of Colorado Boulder Chancellor Phil DiStefano and University of Colorado Denver Chancellor Jerry Wartgow traveled to the Kingdom of Saudi Arabia in late January to celebrate the newly formed Saudi CU Alumni Chapter. Their visit was hosted by Zuhair Fayez, an engaged and enthusiastic CU alumnus (bachelor's degree in architecture; master's degree in urban design) who has a successful architectural and engineering firm in Saudi Arabia. He has had 17 members of his family follow him to CU. Fayez was awarded an Honorary Doctorate of Humane Letters at commencement in Boulder in May in recognition of his accomplishments and service to the university.
---


Waleed Abdalati
CU's focus on science has led our students and faculty to every continent and beyond. Now, our reach is continuing to expand. In December, Waleed Abdalati, an associate professor in CU-Boulder's geography department, was named NASA's chief scientist. In the position, he will be the chief advisor to NASA Administrator Charles Bolden on matters relating to NASA science programs, investments in science programs and strategic planning. At CU, he also is a fellow of the Cooperative Institute for Research in Environmental Sciences (CIRES), a joint institute between CU and the National Oceanic and Atmospheric Administration. He directs the Earth Science Observation Center at CIRES, where he, his students and colleagues use satellites to study ice sheets, glaciers and their role as predictors of climate change.
---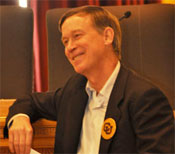 Gov. John Hickenlooper
Some 200 CU alumni and friends gathered at the state capital in Denver on Jan. 28 for CU Advocacy Day. The annual event is a chance for us to interact with lawmakers, convey the value of CU to Colorado and the nation, and press our case for funding. It's also an opportunity for Colorado legislators to share with their colleagues their view of the issues facing higher education and the value of our universities, particularly in difficult economic times.
Governor John Hickenlooper addressed our group, demonstrating a solid understanding of higher education's substantial role in a healthy state. Yet he also warned us of difficult budgetary times to come.
Read full story »
---
CU Boulder ranks No. 1 nationally for Peace Corps volunteers
The University of Colorado Boulder is building on its reputation for having its students and alumni engaged in the world. The campus recently reached the top ranking nationally of alumni serving in the Peace Corps. There are 117 CU-Boulder alumni serving in the Peace Corps around the world, according to the organization. We ranked second last year, and overall, we are fifth all-time among schools producing volunteers. Since President John F. Kennedy formed the Peace Corps in 1961, 2,269 graduates of CU-Boulder have served. Chancellor Phil DiStefano said this year's top ranking and the university's history with the organization are emblematic of the focus on service learning and civically engaged students. Each year, more than 13,000 CU-Boulder students participate in some form of community service. In 2008, the campus was one of only three colleges and universities in the United States to receive a Presidential Award for General Community Service.
Read full story »
More University of Colorado Boulder news »
Colorado Springs to host 2012 World University softball and boxing championships
The University of Colorado Colorado Springs recently learned it will be host to a pair of international sporting events in summer 2012. The International University Sports Federation announced in late January that UCCS will be the site of its World University Championships in softball (Aug. 2-11) and Boxing (Aug. 2-10). More than 300 athletes and officials from 30 nations will participate. Events are part of a schedule of 33 winter and summer World University Championships in 2012. At UCCS, athletes and officials will be housed at the Summit Village Residence Halls and Alpine Village Apartments on campus. The boxing will be at the Gallogly Events Center and softball will be at the Four Diamonds Sports Complex, which has hosted several NCAA Division II playoffs.
Read full story »
More University of Colorado Colorado Springs news »
Beverly Buck appointed to Grantmakers for Children, Youth, and Families board
Bringing 30 years of philanthropic expertise and program design experience with her, University of Colorado Denver's Beverly Buck was one of five new members recently appointed to the national board of Grantmakers in Children, Youth and Families (GCYF). Buck, a senior research associate at the Buechner Institute for Governance at UCD's School of Public Affairs, will join the 14-member board that provides guidance to GCYF's overall efforts to improve grantmaking on behalf of children and families. The work of GCYF parallels work at the Buechner Institute, whose goal is to help advance collaboration across systems and disciplines to create better public policy outcomes for children and families. The GCYF also serves as a forum to review and analyze grant making strategies, exchange information about effective programs, examine public policy developments and maintain discussions with national leaders.
Read full story »
More University of Colorado Denver news »
School of Medicine wins $3.9 million grant for whole-person health care
The importance of the work being done at the Anschutz Medical Campus was highlighted recently when the Colorado Health Foundation gave a $3.9 million grant to Advancing Care Together (ACT), a program dedicated to bringing comprehensive, integrated, whole-person health care systems to the people of Colorado. Based in the Department of Family Medicine at the University of Colorado School of Medicine, ACT is a four-year program designed to produce the best practice models of comprehensive, integrated health care by bringing together local and national health leaders to tackle the issue of health care fragmentation. Dr. Larry Green, director of ACT, says this fragmentation has created entirely separate systems of care between the physical and mental sides of the patient, which creates duplication of efforts, hamstrings clinicians with incomplete date, undermines comprehensive care and fails to give patients the care they need. Anne Warhover, CEO of the Colorado Health Foundation, says the integration of behavioral and physical health services is a key area of focus for her group. "There is an overwhelming need for a systemic approach in developing best practices, addressing financial barriers and driving policy solutions that will allow for statewide implementation and sustainability of a better model. That's why the work of ACT is so important to the people of Colorado and why we have invested in its efforts."
Read full story »
More Anschutz Medical Campus news »