April 2010
---
In This Issue...
---
Dear Alumni and Friends,

President Bruce D. Benson
The University of Colorado Board of Regents recently approved the administration's recommendation on tuition rates for the 2010-11 academic year. For the typical student (resident Arts & Sciences major), annual rates will increase by $572 at the Boulder campus (9 percent), $504 at Denver (9 percent) and $420 at Colorado Springs (7 percent). In total cost of attendance (tuition and fees, room and board) increases are $995 at Boulder (4 percent), $1,007 at Denver (4.5 percent) and $628 at Colorado Springs (3.5 percent). Revenue from the tuition increase will help CU continue to deliver high quality classroom instruction and student services.
We are sensitive to the cost of a CU education for our students and their families, particularly in these economic times. When they consider the issue, and when media report it, the discussion is almost exclusively on cost, which is understandable.
Yet we hope that in addition to the cost, people also consider the benefit, which is substantial. Investing in a college education is perhaps the best investment a person will make. The return on that investment is significant, enduring and often life-changing.
Look at just one facet of that return: employment. The organization Postsecondary Education paired statistics from the federal Bureau of Census and Bureau of Labor Statistics to look at the relationship between educational attainment and employment. Those who didn't graduate from high school earn an average of $31,121 annually; their unemployment rate is 14.6 percent. High school graduates earn an average of $40,175 and are unemployed at 9.7 percent. Those with an associate (two-year) degree earn $48,534 and are unemployed at 6.8 percent. People with a bachelor's degree earn an average of $71,044 and are unemployed at 5.2 percent. Earning advanced degrees pushes earnings higher and unemployment lower.
The link between educational level, earnings and employment is clear. Yet that is not the only benefit. Various studies show college graduates engage in their communities at greater rates, have more opportunities and better prospects in life, and are healthier.
Higher education is not only good for an individual, it's also a societal good. Colleges and universities, particularly research universities like CU, create jobs, start companies, provide an educated work force and have a significant economic impact on a state (some $7 billion annually in CU's case, including the University of Colorado Hospital). We are also a stable presence in an unstable time; CU has contributed to the economic, social and cultural fabric of Colorado for 134 years and we intend to continue doing so.
Given all the benefit of a CU education, we fully understand our obligation to ensure that it stays affordable and accessible. Despite the fact that state funding per resident student has dropped some 58 percent since July (temporarily backfilled by federal stimulus funding), tuition at CU remains below that of its peers nationally.
We have made significant investments in financial aid over the past decade. CU internally generates some $105 million in financial aid, about five times what the state provides ($20.6 million). In 2002, we generated $38 million while the state provided $16 million. Financial aid allows us to support middle-income students and families who may earn too much to qualify for federal Pell money but not enough to easily afford tuition.
We also recognize our obligation to keep our costs low. Over the current and next fiscal years (the one ending in June and the one beginning in July), we will have balanced our budget by $50 million. A substantial amount of that comes in the form of strategic cuts. We will have reduced our work force by more than 335 positions, streamlined bureaucracy and instituted reforms that make us a more efficient operation. At the same time, we are educating 2,100 more students than we were at the start of FY 2008-09.
We know a college education is expensive and are doing our part to keep our costs in check. Yet we also know a CU education is an investment that pays dividends over a lifetime.
Sincerely,
Bruce D. Benson
President
---
There is a perception that faculty members walk on campus, are handed tenure, and keep it without stipulation throughout their careers. This is not the case at CU. In 2005, we enacted one of the most sweeping reforms of tenure in American higher education. Our system is rigorous, accountable and evaluates faculty members throughout their careers. Of CU's approximately 4,130 total faculty, 2,877 are tenured or on tenure track.
It's important to note that getting tenure usually takes a minimum of seven years. Keeping it requires that faculty members undergo post-tenure review every five years to ensure they maintain high standards. Additionally, CU also has a rigorous annual merit review process that identifies poor performers well before the five-year post-tenure review milestone.
Our most recent post-tenure review report shows that after the post-tenure review process, two faculty members were rated as performing "below expectations." An additional 15 received the same assessment during annual merit review. All were given a Performance Improvement Agreement, a plan to better their performance that includes specific goals, timelines and benchmarks used to measure progress at periodic intervals, usually over the course of a year.
While relatively few faculty members fall below expectations, the system is designed for early intervention to prevent them from getting to a crisis point. In some extreme cases, faculty members who realize they may not measure up leave before they reach that point.
The vast majority of our faculty members are diligent, hard-working and expert teachers and researchers. Maintaining a rigorous, accountable post-tenure review process will help us ensure our faculty members continue to meet those high standards.
---
Health care destination in Colorado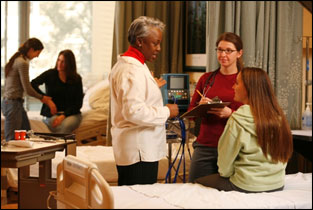 For those who don't already know this, there is a world-class health care destination right here in Colorado: the University of Colorado Anschutz Medical Campus. One of the newest patient care and biomedical research campuses in the country, AMC boasts some of the top researchers and faculty in their fields.
Also based on the campus are the University of Colorado Hospital and The Children's Hospital, and plans are underway to build a new Veterans Administration Hospital adjacent to campus. The University of Colorado Hospital has received a magnet designation for nursing excellence from the American Nurses Credential Center's Magnet Recognition Program. The four-year designation recognizes continuing excellence in nursing and overall patient care.
Our teaching hospital is not the only reason the Anschutz campus is a major hub for patient care and medical research. We are equally proud of other health care and biomedical initiatives occurring on the campus and across the rest of the CU system.
At the University of Colorado Cancer Center, researchers are searching for new clues in the fight against lung and other cancers. Last week, the center received a $3.5 million grant to study lung tumors. Tumor screenings and clinical trials of a new anticancer drug will involve some 2,000 patients. The center also received a $5.2 million federal grant last year to develop a 13-center Lung Cancer Genetic Mutations Consortium. In addition, the CU Cancer Center is leading the way with clinical trials aimed at speeding up the study of new targeted treatments for certain types of breast cancer.
Just one of many examples of the research excellence taking place at the CU School of Medicine is a study that is examining new ways to reduce the risks of heart attacks and diabetes in patients diagnosed with metabolic syndrome. The study is being led by Robert Eckel, M.D., the former president of the American Heart Association, and could benefit nearly a quarter of the U.S. population diagnosed with metabolic syndrome.
Colorado should be proud of the world-class patient care and medical research taking place right here in our own backyard.
---
Meet CU's latest President's Teaching Scholar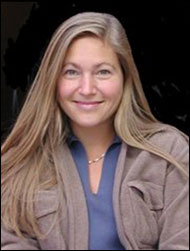 Diane Sieber, Ph.D.
What do you get when you combine innovative research with a passion for teaching the humanities through technology? You get the University of Colorado's newest President's Teaching Scholar, Diane Sieber, Ph.D.
Sieber is an associate professor of humanities in the CU-Boulder College of Engineering and Applied Science. She joins a select group of CU faculty honored for their dedication to excellence in teaching, creative work, scholarship and research.
Seventy-four professors have received the recognition since 1989. Those selected for this honor serve as teaching and research ambassadors on their respective campuses, and develop individual, departmental and campuswide projects to assess classroom learning.
Well known for her interdisciplinary scholarship and her keen ability to establish a rapport with students through the use of digital technology, Sieber served as co-director of our prestigious ATLAS Research Institute at CU-Boulder, and is director of the Herbst Program of Humanities in Engineering.
Our university is fortunate to count many talented and well-qualified scholars among its ranks on all four campuses. We are excited about Professor Sieber's research and teachings, and look forward to all she has to offer our students over the coming years.
---
Marry engineering and medicine and you get bioengineering, a field that applies engineering principles and techniques to medicine and biology. The outcomes of this union can be spectacular for patients, who benefit from the creation of medical devices that can relieve joint pain, keep a heart beating or introduce sound to a deaf person.
Other advances include high-tech limbs, implanted insulin pumps and medical diagnostic imaging. We are proud to announce that the University of Colorado Denver is now home to a bioengineering department. The CU Board of Regents approved the program on Feb. 11, and the Colorado Commission on Higher Education concurred on March 15. The department aims for collaborative, interdisciplinary work among engineers, clinicians and medical researchers across our campuses. Robin Shandas, Ph.D., who has a joint appointment as a mechanical engineering research professor at CU-Boulder and the Anschutz Medical Campus, will head the new program. He anticipates five to 15 students in the first year, growing to 50 to 60 graduate students in five years. Students will work directly with faculty, clinicians and surgeons, and their studies will have a strong entrepreneurship focus. They will not only learn how to design new medical devices, but will also move their ideas and research into clinical development, production and marketing. We are excited about this unique opportunity to help train a new generation of CU innovators.
The University of Colorado at Boulder is proud to count four Nobel laureates among its many distinguished faculty, including Carl Wieman. On March 22, President Barack Obama announced his nomination of Wieman to the position of associate director for science in the national Office of Science and Technology Policy. Please join me in congratulating Professor Wieman for this prestigious recognition.
Wieman left a full-time position at CU-Boulder in 2007, but remains a Distinguished Professor on the CU-Boulder faculty. He spends 20 percent of his time at CU-Boulder and the rest at the University of British Columbia, where he teaches physics. Wieman is well known for his extensive research in atomic and laser physics, which led to his sharing in the 2001 Nobel Prize for the creation of a new form of matter known as "Bose-Einstein condensation." The discovery has allowed scientists worldwide to study the strange and extremely small world of quantum physics, and has established a new branch of atomic physics that has provided a treasure-trove of scientific discoveries. The condensate was predicted in 1924 by Albert Einstein, who built on the work of Satyendra Nath Bose. It occurs when the wavelengths of individual atoms begin to overlap and behave in identical fashion and form a "superatom," which happens when laboratory apparatus are used to chill a group of atoms to just a few hundred billionths of a degree above absolute zero.
At its February meeting at the University of Colorado at Colorado Springs, the CU Board of Regents recognized UCCS School of Public Affairs Professor Donald Klingner as one of the university's newest Distinguished Professors. The board honored Klingner for his commitment to his students and his "passion for knowledge." He joins an elite group of 56 academics at CU who have received the highest honor bestowed on the university's faculty members.
In thanking the regents for the recognition, Klingner said, "It doesn't get any better than this." Professor Klingner is internationally known for his work in human resource management for public organizations, a reputation he has built over a 35-year career. He was nominated for the Distinguished Professor designation for demonstrating outstanding performance in classroom teaching, research and service to the university and its affiliate institutions. In addition to his well-recognized classroom teaching, Klingner is the author of more than 100 scholarly articles in journals, and has written a dozen books, including "Public Personnel Management," a 1980 publication in its sixth edition that remains a best-seller.
The University of Colorado Anschutz Medical Campus is home to Colorado's first and only comprehensive medical school. The 125-year-old institution attracts internationally recognized faculty and some of the state's most promising graduate students. A few weeks ago, 155 CU School of Medicine graduates learned where they will be serving three-year residencies. A defining experience in the life of every medical doctor, a residency requires a newly minted M.D. to work alongside fully licensed physicians in clinics or hospital settings. The goal is to help them hone the skills they acquired in medical school before starting their own medical practices or joining the staffs at clinics and hospitals.
On March 19, our latest group of medical school graduates gathered in the Grand Ballroom at the Grand Hyatt Denver for Match Day 2010. The annual event paired graduates with hospitals around the country. As medical residents, the CU graduates will head into their first, full-time paid positions as physicians, and many will be asked to weather 80-hour work weeks without showing signs of stress. I applaud their courage, dedication and flexibility as they head into their future and represent our university in good stead.