February 2010
---
In This Issue...
---
Dear Alumni and Friends,

President Bruce D. Benson
The University of Colorado has long been known for excellence in teaching mathematics and science. After all, four Nobel Prize winners and 26 National Academy of Sciences fellows have served on the CU faculty. Our first Nobel Laureate, Tom Cech, returned to the Boulder campus this semester to lead the Colorado Initiative in Molecular Biotechnology. But he also insisted on teaching freshman chemistry, and his dedication to undergraduate education is reflective of the larger university commitment.
So it's only natural that we would extend excellence in teaching our undergraduate students to K-12 mathematics and science education. That excellence took center stage at the White House in January, when President Barack Obama recognized the University of Colorado at Boulder for its leadership in science, technology, engineering and math, or STEM, education, and welcomed the University of Colorado at Colorado Springs into the fold of American universities that have increased their commitment to shaping the next generation of American educators and innovators.
Chancellors Phil DiStefano of CU-Boulder and Pam Shockley of UCCS joined President Obama and other education, nonprofit and business leaders for the announcement to expand the nation's commitment to STEM education through the national Educate to Innovate initiative. Chancellor DiStefano was one of four leaders of public research universities who represented 120 universities that pledged to address the national shortage of science and mathematics teachers.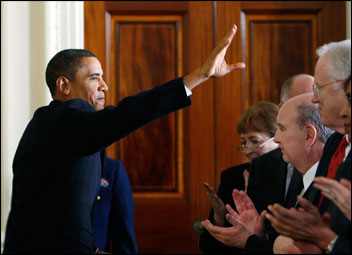 AP Photo/Charles Dharapak
At a January event at the White House, President Obama greets UCCS Chancellor Pamela Shockley-Zalabak (second from left) and CU-Boulder Chancellor Phil DiStefano (third from right).
The event at the White House shines a spotlight on our efforts, but STEM education has been a focus on all our campuses for some time. At the University of Colorado Denver, the annual "STEMapalooza" event celebrates the campus's longstanding commitment to preparing the next generation of K-12 science and mathematics teachers. More than 7,500 people, including 4,500 students, participated in this year's event. Additionally, UCD is a partner in the Colorado STEM network, a statewide coalition of business, government, education and community groups focusing on STEM education and preparing a work force ready to meet the demands of a global, technology-based economy.
UCCS is one of 20 universities nationwide that are part of the UTeach program, which aims to prepare 4,500 new mathematics and science teachers by 2015 and 7,000 by 2018. Those teachers will have an impact on more than 20 million students over their teaching careers. Faculty and leadership in the UCCS College of Letters, Arts and Science and the College of Education collaborated on the effort to develop more science and mathematics teachers and to provide professional development for teachers already in classrooms. Additionally, UCCS has a grant from the U.S. Air Force Office of Scientific Research for STEM education initiatives with regional partners, including the Air Force Academy.
CU-Boulder is part of the Science and Mathematics Teacher Imperative (SMTI), a national initiative sponsored by the Association of Public and Land Grant Universities that includes 121 public research universities in 41 states. The campus addresses the issue in a variety of ways, including a multidisciplinary approach through a collaboration among the School of Education, College of Arts and Sciences, and College of Engineering and Applied Science. The goal is to increase the number of STEM majors completing secondary mathematics and science teaching certification.
Results are promising: The number of physics and chemistry majors enrolling in teacher certification has more than tripled over the past three years.
If our state and nation are to remain competitive, it is essential that we place a greater focus on mathematics and science education. The University of Colorado will continue to play an important role in the effort. Given our history of excellence in the field, I have every confidence we will succeed.
Bruce D. Benson
President
For feedback, write officeofthepresident@cu.edu
---
CU seeks greater flexibility at Capitol
The 2010 legislative session is underway at the Colorado Capitol. This year, Colorado universities are lobbying for greater flexibility to allow us to operate our institutions more efficiently. Colorado's state budget is the toughest seen in generations, and greater flexibility would help the state's colleges and universities offset reduced state support due to the economic downturn and constitutional spending restraints. It would not solve our fiscal crisis, but it would be a step in the right direction.
Senate Bill 3 is being carried by Senate Majority Leader John Morse and Representative Mark Ferrandino. The lawmakers joined the state Fiscal Stability Commission and higher education leaders from around Colorado to craft the bill, which aims to improve efficiency at state universities by cutting red tape. We would maintain accountability through our governing boards and existing audit procedures and financial controls.
If adopted, the proposed legislation would enable CU and other universities to develop our own fiscal rules and policies, admit more international students (although not at the expense of Colorado residents), determine how financial aid is allocated, and enable us to set our own information technology practices, among other facets.
By cutting down on state-mandated bureaucracy we would be able to improve our efficiency and effectiveness. This legislation has already been introduced into the Colorado Senate, and we welcome your support as it makes its way through the legislative process.
---
CU is fortunate to count among its supporters many generous donors whose contributions are making a huge difference in the lives of our faculty and students.
Last month, our university received two donor gifts that will ensure the future success of a major biotechnology initiative at CU-Boulder and a brand-new events center at UCCS.
CU-Boulder received a $1 million gift from Amgen, a global biotechnology company that emerged from CU research with manufacturing operations in Boulder and Longmont. The funds will go toward the Jennie Smoly Caruthers Biotechnology Building. The first phase of the building, which will be a state-of-the-art research and teaching facility, is slated for completion next year.
Meanwhile, the new, 1,250-seat events center at our Colorado Springs campus will bear a new name thanks to a $1 million gift from a family of eight UCCS graduates. James L. "Jim" Gallogly, a 1974 graduate, and his wife, Janet, have pledged to donate the funds to the CU Foundation on their family's behalf.
We are so grateful for all our donors, alumni and other supporters do for us. On behalf of our students, faculty and staff, thank you. Without your financial support, we could not offer the high-quality programs our students expect and need.

---
Two professors, one student claim Thomas Jefferson Award
Each year, CU confers the Thomas Jefferson Award on faculty, staff and students who embody the ideals of the nation's third president. The award is one of the highest CU bestows on its own, and nominees must demonstrate a broad interest in literature, the arts, sciences and public affairs while advancing higher education and individual rights.
| | | |
| --- | --- | --- |
| Michael Eisenberg | Stephen Hartnett | Eamon Aloyo |
"This year's award committee comprised faculty, staff, students and alumni who chose three people whom they deemed worthy of receiving the award. It is with great pride that I acknowledge this year's recipients: Michael Eisenberg, a CU-Boulder computer science professor; Stephen Hartnett, a UC Denver associate professor of communication; and Eamon Aloyo, a CU-Boulder political science doctoral student.
All will receive a $2,000 cash award, a commemorative plaque, and well-deserved recognition at the Board of Regents meeting in April. Award funding stems from earnings on a McConnell Foundation endowment and a bequest by CU alumnus Harrison Blair. Without their valued support for this award, we could not encourage, inspire and recognize excellence among the ranks of our faculty, staff and students.
Please join me in congratulating our newest Thomas Jefferson Award winners for their contributions to CU and the Colorado community.

---
Haiti tragedy echoes across CU community
The tragedy that continues to unfold in Haiti has resonated on many levels across the greater University of Colorado community. A University of Colorado Denver professor and eight of his students left the impoverished island nation only hours before a 7.0 magnitude earthquake struck on Jan. 12.
Blair Gifford, Ph.D., an associate professor of international health management at the UC Denver Business School and the Colorado School of Public Health, and his students were in Haiti studying health systems development and management. Their trip was part of a two-week MBA course in health administration in the developing world.
Gifford and his students are happy to be home, but are concerned about the people they met and worked with in Haiti. Even before the earthquake, Haiti was the poorest nation in the Western hemisphere, he says.
A University of Colorado at Boulder graduate student has found a way to help Haiti, and her work is drawing international attention. Kate Starbird came up with a social media application called "Tweak the Tweet" to facilitate earthquake relief efforts.
Gifford and Starbird embody the spirit of global cooperation and understanding that many of our academic programs underscore. It is precisely this kind of real-world experience that enriches our students' lives, and propels the CU legacy forward.

---
New rankings of the nation's "Best Value" universities indicate what we've known all along: The University of Colorado at Boulder continues to be a great deal for students from Colorado and elsewhere who want a high-quality education at reasonable prices. Last month, USA Today and The Princeton Review named CU-Boulder the No. 5 "Best Value" public college or university for 2010. The publications, which issued a joint ranking of 100 public and private universities, cited CU-Boulder's "reasonable tuition" as one of its major selling points. The rankings are based on surveys of administrators and students. We have questioned Princeton Review's research methodology previously (most notably with its "party school" rankings, which uses unscientific survey methods), but are confident that the study with USA Today used appropriate methodology. We have long argued that all of CU's campuses offer great value when compared to their peer institutions. Our Boulder campus also appeared in Kiplinger's "100 Best Values in Public Colleges in 2009-10" last month, but was ranked 74th nationally. Such disparity reminds us that college rankings are by no means an exact science.
One of our faculty members hopes to help U.S. athletes perform better at the Winter Olympics, which take place in Vancouver, Canada, Feb. 12-27. Nanna Meyer, an assistant professor at the University of Colorado at Colorado Springs Beth-El College of Nursing and Health Sciences, is not a personal trainer. She's a nutritionist and director of the campus's master's of science in sport nutrition program, and has more than a decade of experience as an Olympic consultant. She began working in food preparation for the Olympics at the 1998 Nagano Winter Games, and later served as the U.S. Speed Skating Team's sports dietician. Meyer also served as a nutrition consultant for athletes in Salt Lake City in 2002 and Torino in 2006. This year, she and graduate students Kelly Ping and Jane Taggart will travel to Vancouver to oversee menu planning and meal preparation for the men's and women's U.S. Speed Skating Team. So, when you're cheering U.S. Olympic athletes, cheer for Meyer and her students, who are representing our university well at the games.
I'd like to put the spotlight on a two-year study taking place at the University of Colorado Denver that recently received $710,000 in federal funding through the American Recovery and Reinvestment Act, or ARRA. Lead investigator Loren Cobb, Ph.D., a research associate professor in UC Denver's mathematical and statistical sciences department, will use the grant to track the movements of epidemic diseases. He and his research team hope to shed more light on how communicable illnesses are spread around the globe. The researchers will capitalize on recent mathematical advances that can systematically track the spread of wildfires, weather systems and climate patterns. Cobb says increased global travel and human population growth has made this research more compelling than ever, especially with the emergence of avian flu and the H1N1 virus, and the re-emergence of old diseases such as tuberculosis.
Another study taking place at our Anschutz Medical Campus involves the use of the nose as the first line of defense against disease-causing bacteria. Researchers at the University of Colorado School of Medicine have discovered that mice have bitter-taste receptors in their noses that enable them to sniff out multiplying microbes. The findings of their study recently appeared in the Proceedings of the National Academy of Sciences. Thomas Finger, Ph.D., of the university's Rocky Mountain Taste and Smell Center, and his team have been delving into this issue for some time. In the end, their research could help scientists determine whether we humans have the ability to smell disease-causing bacteria before serious illness sets in. The work CU researchers are conducting across all four of our campuses has the potential to benefit all humanity. I'm proud of their accomplishments, and I hope you are, too.